See Waipio Valley on Hawaii, the Big Island
As you're making your Big Island vacation sightseeing plans, I hope you'll take the time to see Waipio Valley on the Hamakua Coast. It's a marvelous sight with a mile-long black sand beach flanked by tall (1,000 to 2,000 feet high) green cliffs and thriving gardens in the flat of the valley.
Historians believe that Waipio Valley is one of the earliest places of Polynesian arrival and settlement. With easy canoe access and a fresh water supply, the valley may have been the home of up to 9,000 early residents.
We never miss an opportunity to see Waipio Valley as we're traveling Highway 19  to and from the Kona side to the Hilo side. Each time, we visit, the valley looks different based on the season, recent rainfall and time of day.
Getting to the Waipio Valley lookout is easy. Turn towards the ocean and the town of Honokaa at Plumeria Street  between mile markers 43 and 44. Follow Plumeria Street to the intersection of Highway 240 and turn left.  Just follow Highway 240 west from Honokaa until it ends at the lookout. There's a small parking lot here. Visitors can see the valley from the parking lot, but visitors who are able can take a set of stairs down to get a little closer look into the valley.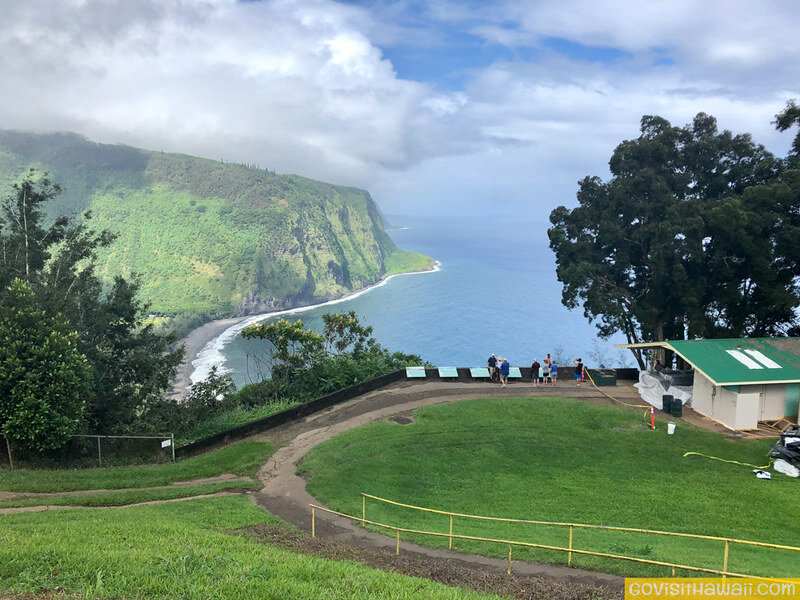 Several years ago, we took a guided hike around the Waipio Valley Rim. The following photo shows one of those vantage points from that hike. As of a 2018 update, we do not know of a tour company that is currently offering guided hikes around the rim.
Effective February 2022, access to the valley is off limits for visitors. This change is effective indefinitely. So, for now, we will keep the following text in place for reference purposes only, but with strike-through font.  If you'd like to get down into the valley, that's a little more challenging as the road is super steep and rough. Rental cars are prohibited from driving down Waipio Valley Road. You can hike down the steep road which is basically all downhill on the way into the valley and steep uphill all the way back. We don't recommend hiking. Some easier options include a shuttle service (see our review of the shuttle tour) and mule-drawn wagon tours. Horseback riding tours of the valley are offered that include a vehicle ride down the steep road. We've enjoyed horseback riding in Waipio Valley with Na'alapa Stables.
Another interesting way to see Waipio Valley is on a Big Island helicopter tour. Here's a video clip of Waipio Valley. (Email subscribers: click this link to find the Waipio Valley video embedded in this post.)

Have you been to Waipio Valley? How was your experience?