Na Pali Coast by Land, Air & Sea
Kauai's ruggedly remote Na Pali Coast is teeming with outstanding scenery that's practically indescribable. Jagged cliffs, waterfalls and lush valleys blend to create unforgettable views.
Today, I want to share the different options of seeing the Na Pali Coast. I want to be able to give you a taste for each method to help you choose the best option for you.
By Land
Let's start on land with a hike of the Kalalau Trail – a challenging 11-mile trail  that hugs the coastline. Seasoned backpackers tend to enjoy the entirety of this strenuous trail. Since we don't fall into that category, we choose to hike the first two miles into the trail down to Hanakapiai Beach – a four to five-hour hike that'll have you earning your supper.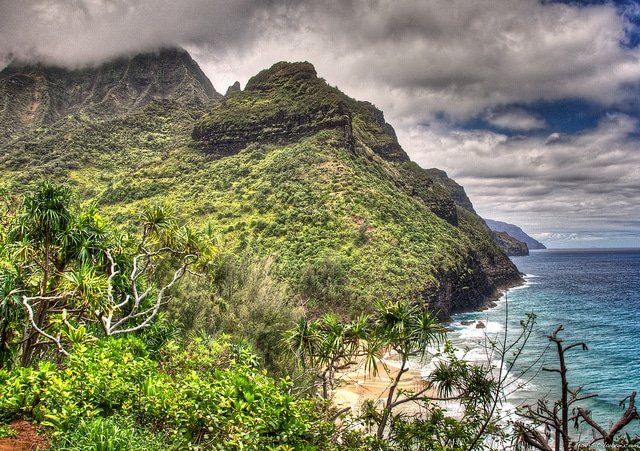 Along the way, the trail gives you an appreciation for all the nooks of the cliffs as well as all the trees, shrubs, ferns and flowers that make them so green.
To better understand this hike and the types of views you'll see, check out our video. (Email subscribers: click here to watch our Na Pali hiking video.)
Another way to see the Na Pali Coast from land is via the Kalalau Valley Lookout in Kokee State Park. Going here is one of the must-see attractions of Kauai and along the way you can enjoy several viewpoints of the famous Waimea Canyon.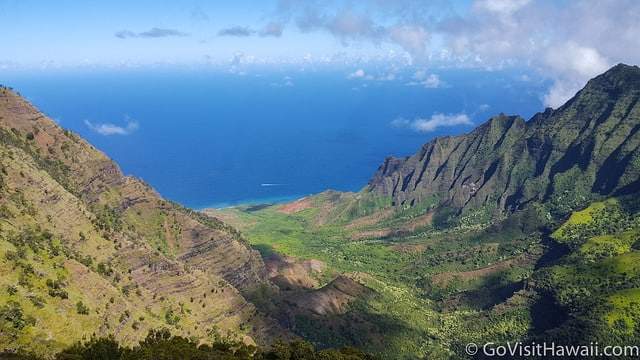 By Air
A helicopter tour of the Na Pali Coast is a must for your Kauai vacation, if your budget allows. The bird's eye view from a helicopter provides views that will make you say wow. Each time your round a cliff, you'll say wow again, as you see waterfalls carved between unexpected cliff formations.
Most of the helicopter tours start at Lihue and fly over Waimea Canyon to the southern end of the Na Pali Coast. The tours follow the Na Pali coast up to the North Shore. It's a thrilling experience to slowly hover past 3000-foot tall cliffs jutting from the ocean.
I encourage you to review my Hawaii helicopter tour tips to help you make a good tour choice. I also recommend that you book your tour in advance online for savings.
If you're wondering what a helicopter tour of the Na Pali coast might feel like, just check out this video for a glimpse.

By Sea
Touring the Na Pali Coast by a catamaran, raft or kayak gives you the opportunity to soak in the views at a much slower pace. From the sea, you get an appreciation for cliffs' magnitude.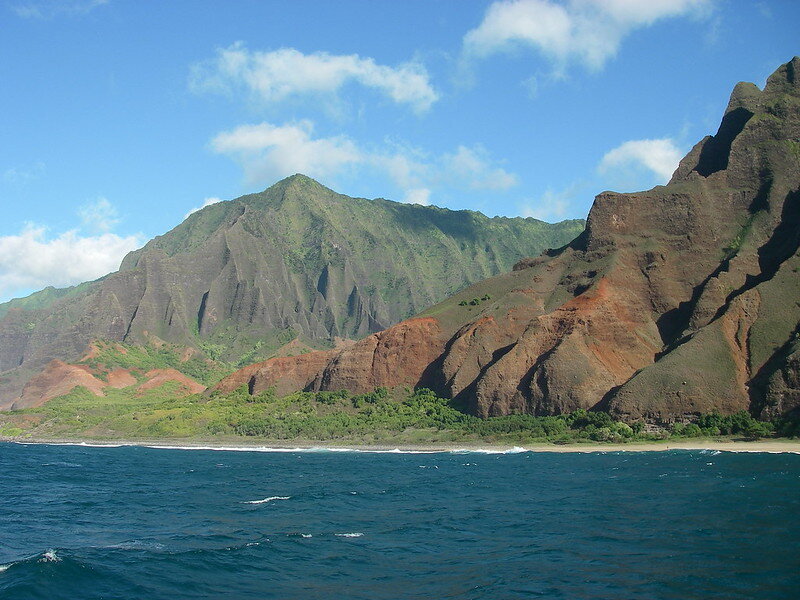 We've toured the Na Pali coast with Kauai Sea Tours and Captain Andy's Na Pali Snorkel Adventure for morning snorkel tours. We've also taken a sunset Na Pali tour with Blue Dolphin. Both were excellent experiences.
Most boat tours of the Na Pali Coast leave from Port Allen on the South Shore. That means that you must sail for approximately 45 minutes before you start seeing the Na Pali Coast. It's still a pleasant trip and view, but I just wanted to make you aware that if you see a tour advertised as a four-hour tour, not all of those four hours are providing views of the Na Pali Coast.
One day, I hope to tour the Na Pali at an even slower place with a kayak tour of the Na Pali. These tours set out from the North Shore. They're only offered during summer months when the surf is relatively smooth.
Here's a video we shot from our Captain Andy's tour. As you can see, we didn't have good luck with the weather that day, but the Na Pali Coast still impressed us through the mist and clouds.

Final Thought
From the Na Pali Coast tour options we've reviewed, you can see that each one offers a different perspective. If you have the time, energy and budget, I encourage you to try all of three ways.
Have you toured the Na Pali Coast? What was your experience? Which methods have you tried?