Oahu's Punchbowl — National Memorial Cemetery of the Pacific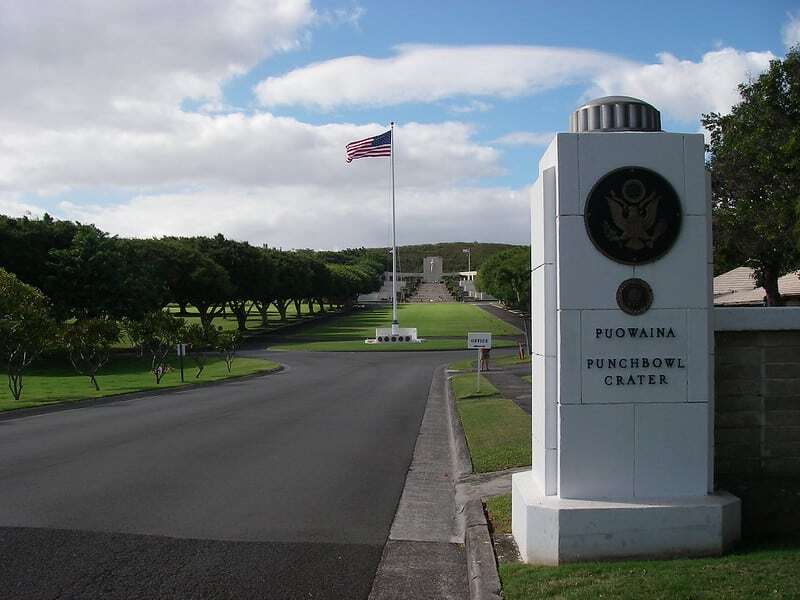 On my list of the top 10 things to see and do on Oahu, I recommend a visit to the National Cemetery of the Pacific, which has been dubbed Punchbowl. At first thought, you might think it's strange for me to suggest you visit a cemetery on your vacation, but this one is very special.
What makes a visit to Punchbowl worth visiting? Most importantly, it's place to remember the sacrifices of the men and women who have served the United States and our allies.
This volcanic crater's Hawaiian name is Puowaina, which is most commonly translated as "Hill of Sacrifice".  Punchbowl is indeed a hill of sacrifice with hundreds of graves representing service and sacrifice to our nation.
Though many of the graves represent sacrifices of war, Punchbowl echoes serenity. I know that I've sensed a calm peace from my visits to this military resting place.
Punchbowl is beautiful with its lush shades of manicured green in contrast with the white granite and stonework. Within the crater's gates, there's a lovely pathway (on the left after you enter the gates) that leads to memorials and a view of Honolulu.
What to know before you go:
Punchbowl is located in Honolulu at 2177 Puowaina Drive. It's about a 15-minute drive from the Waikiki resorts.
There is no charge to visit Punchbowl.
Per the official website, visitation hours are from 8:00 a.m. until 5:30 p.m.September 30 through March 1. Then from March 2 through September 29, hours are from 8:00 a.m. until 6:30 p.m. The exception is Memorial Day, when there are extended hours. Do check their website for any changes to these hours.
On Memorial Day, special ceremonies are held. Each grave is decorated with a lei made and donated by Oahu residents.
Many tour companies offer packaged tours that include the USS Arizona Memorial and Punchbowl. Most companies only drive through.
Read more on the history plus interesting facts about Punchbowl here.
See more photos from our visits to Punchbowl here.
On a side note, Liliha Bakery is near Punchbowl. If you're visiting the area and need a snack, check out this excellent bakery and diner. See my post: Liliha Bakery Coco Puffs: A Must Try on Your Oahu Vacation.