Hawaii's Big Island Lava Activity Update (November 2010)
What's hot in Hawaii? Lava is hot for sure!
The active volcano Kilauea continues to produce new lava flows on the Big Island of Hawaii. Currently, lava is visibly active at multiple locations on the southeast side of the Big Island.
Perhaps the hottest and most unpredictable lava activity spot at the moment is on the coast near Kalapana. There lava has been flowing through tubes to the ocean and producing a large plume of smoke and gases as the lava pours into the ocean. This particular ocean entry is called Puhi-o-Kalaikini.
Surface flows have also been popping up in the Kalapana area. A public viewing area is open and operated by  Hawaii County Civil Defense. (For information on the public viewing area, call 808-961-8093.)
I've been following the youtube channel of a gentleman who lives "next door" to the lava activity. He regularly shares new and amazing lava videos. (Mahalo lavaloverbo!) Here's his most recent video of a new surface breakout about a half of a mile from his home.

Lava activity near Kalapana is detailed in this USGS map. For a larger view, click on the map.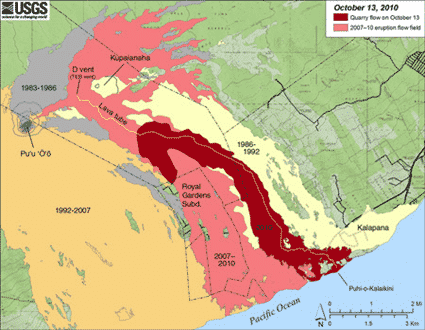 The other point of lava activity is inside Hawaii Volcanoes National Park at Halemaumau Crater. Since 2008, a lava lake has produced a plume of volcanic gasses and smoke at this crater. In the daytime, you can see the plume, but at night, you can see the blood-orange glow of the lava radiating in the plume. An ideal time to plan to see the red glow is at dusk or dawn. See my tips for  visiting Halemaumau.
I hope that you have an opportunity to see lava activity when you visit Hawaii's Big Island – safely, of course! If you're planning a visit, check out these resources I've written: