This guest post was written by the lovely Laura Dinaro from Italy. Laura and her husband Marco will soon be on their way to a much anticipated return visit to Hawaii. As Laura was preparing for their trip, she ran across a very nice memory from their previous visit to Hawaii's Big Island. Mahalo to Laura and Marco for sharing this vacation memory with us.
——

A few days before our "grand trip" to magical Big Island  (August 2008)  we happened to read about the Kona Historical Society, who wants to preserve the fascinating history of the Kona district.
We love to try and know as much as we can about history & traditions of the places we visit; so we paid a call to that society and went for a visit to  the Greenwell Store. See the following photo of the Greenwell Store in 1930.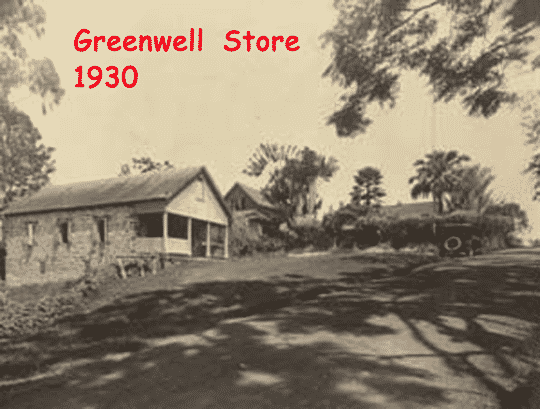 At the end of the 19th century, that building served the community as post office, general merchandise store and meeting place. Now it's managed by the Kona Historical Society, to re-create for tourists those times.
A costumed  man was our host inside the store. It was a sort of "role playing" game. I  "played" Lisa Todd, the "esteemed client" buying some goods of the 1890's!
Yes, they were  the exact copies e.g. of  shaving soap or curling-tongs used in those years provided by the Smithsonian Institution!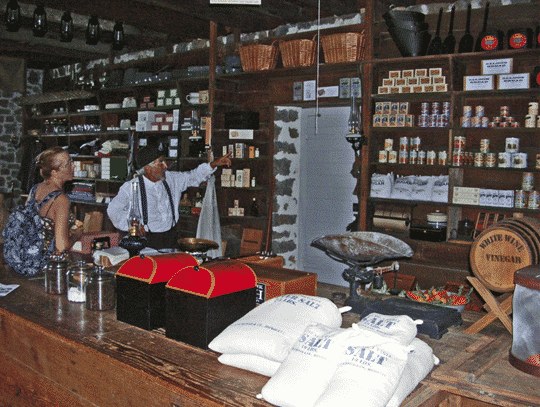 I can still smell the mingled aromas of salted fish, leather, coffee beans and wool … and so liked a pink calico that our polite "vendor" showed me! ( No, you cannot buy anything, you're just playing a role).
Our visit was so fascinating that we also arranged for a private guided tour of historical Kona with another member of the Society for the following day. If memory serves me right, we paid about $60 for the private tour, but it was well worth it!  We had a very kind guide. He really seemed  happy to share with us stories about the first tourists coming to Kailua pier, as well as Hawaiian legends, history of Big island, folklore and so much more.
When  tour came to an end … both Marco and I were very satisfied and felt like being "ohana"  to the island and its rich past.
—-
The H.N. Greenwell Store is open Monday – Thursday 10:00 a.m. – 2:00 p.m. Admission is $7.00 for adults, and $3.00 for children ages 5-12. Children under 5 are free. Reservations are not needed, but you may call 808-323-3222to check availability.
For more information on Greenwell Store and other historical sites and tours, visit www.KonaHistorical.org.