Aloha Phriday Photo: Waikiki Shore Break Edition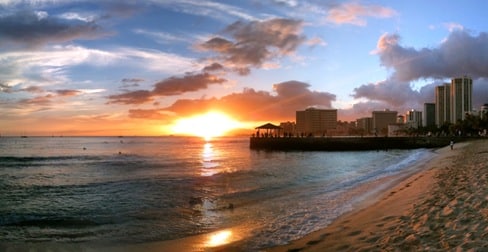 Let me tell you, my friend, Dave, from Oahu captures some amazing shots with his iPhone. He's sharing this panorama beauty with us for what he's calling "Aloha Phriday Photo" 🙂
Dave took this photo from "The Wall" across the street from the Honolulu Zoo. (See this Google Map. "The Wall" is at the end of Kapahulu Avenue.) Dave tells me that this section of Waikiki Beach is the best place in Waikiki for body-surfing and body-boarding. Per Dave, the waves are great for kids. If you don't have a body-board, you can rent one right there.
If you are driving into Waikiki, Dave tells me that you can park nearby at the zoo for fairly cheap. Each 15 minutes cost $0.25 with a four-hour meter capacity before you need to load up with more quarters. (See this post for more Waikiki cheap parking advice.)
Mahalo nui loa to Dave for sharing his excellent photo and local advice!