Swimming With Dolphins On Oahu – Educational & Fun For All Ages
Here's an updated blast from the past post, Oahu Dolphin Quest Review, originally published July, 2007.
I made a new friend in Oahu and his name is Kolohe.  He's a happy and playful, 12 year old, 392 lb dolphin.  I met Kolohe at the Oahu Dolphin Quest that is located at the Kahala Resort.  I got to give Kolohe hand signals, pet him, feed him and watch him swim underwater.  I even got to give him a kiss on the chin.  (One of us had fishy breath, but I'm not saying who. 🙂 )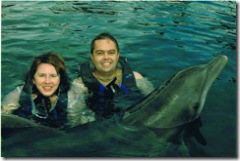 Dolphin Quest offers programs for all ages.  Andy and I did the "adult dolphin encounter", for ages 10 and older.  (Since when is an 10 year old considered an adult?)  The program begins by donning a life vest and then sitting on stairs in the lagoon water.  The dolphin trainer eases you into meeting the dolphin and instructs you where to touch the dolphin and places to avoid.  Later in the program, we got into deeper water and put on masks so that we could watch Kolohe swim under water.
There were five people in total in my group and we each had ample opportunities to interact with Kolohe and have photos taken with him.  I had expected a free for all with dolphins swimming around me, but the program was all very well planned and organized.  It was a great mix of learning and fun.  If you have the room in your budget, I recommend trying the Dolphin Quest.
Things to know before you go.
The prices are steep!  We paid $210 each plus tax for a 25 minute dolphin encounter.  (Ouch!) Since we tried this particular program, it's been updated to a price of $205 plus tax for a 30 minute encounter. Though the prices are high, one plus side is Dolphin Quest has donated over $2 million towards conservation, research, and education.  So, I guess there is some solace in knowing that part of your fee goes towards something good.  It is also a once in a lifetime experience.  Now that I've had the chance to meet and swim with a dolphin, I have no need to ever do it again.
You can't bring your own camera.  There is a photographer there to capture photos of you and the dolphin.  The least expensive photo package is three photos for $41.88 including tax.  Alternatively, if someone from your family is not participating in the program, they are welcome to stand on the side and take photos.
If you know you want to participate in one of the Dolphin Quest programs, you should try to book the program two to three weeks in advance to get the date and program you want.  I only booked a week ahead of time and didn't get the exact date that I originally wanted.  The busy seasons at the Dolphin Quest are basically when children are out of school.
If you aren't staying at the Kahala Resort on Oahu, then allow extra time to drive there.  We drove from the North Shore and got stuck in a traffic jam, luckily we had planned plenty of time.
You don't have to know how to swim in order to participate.  The program supplies life vests.
Bring your own towel.
Dolphin Quest does have another site in Hawaii located at the Hilton Waikoloa Village on Hawaii's Big Island.