Go Visit Hawaii Turns Three!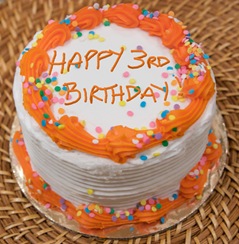 When I started Go Visit Hawaii in March 2007, I really didn't have any specific goals other than to share my passion for Hawaii. I'm not sure I could have envisioned that three years later I'd still be going strong. I have to thank you the readers, my blog pals and, of course, my husband and Go Visit Hawaii photographer Andy for encouraging and inspiring me.
As we begin our fourth year, I think it's useful to reflect on where we've been. I remember the days when I was excited to see that we had a 100 visitors a day and 27 subscribers. So, I thought you might be interested in hearing some current statistics about Go Visit Hawaii:
1,170 posts
Approaching 4,500 comments
Approaching 1,000 subscribers
Receive approximately 60,000+ unique visitors per month
And finally, here's a bit of trivia for you — guess where I was when I decided to write Go Visit Hawaii. Would you believe I was dining at an Italian restaurant in Sydney, Australia? I still smile every time I remember that moment and how it was one of the most unlikeliest of locations to inspire this North Carolinian to write a blog about Hawaii. God does work in mysterious ways!