Aloha Friday Photo: A Match Made in Heaven…er Hawaii
I found today's Aloha Friday Photo submission to be very, very amusing. Only in Hawaii would this combination of SPAM and macadamia nuts come together.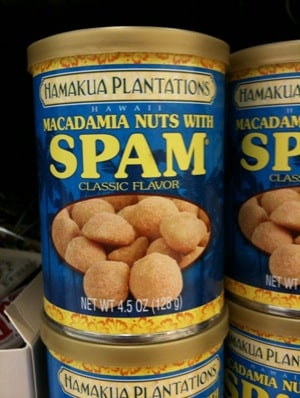 I wouldn't mind trying this nutty concoction, but I'm quite fond of the milk chocolate, toffee covered macadamia nuts.
So, what do you think of this flavor combination? Would you like to give it a try? Would you purchase Macadamia Nuts with SPAM for souvenirs?
Mahalo to Dave for the photo submission! Do you have a photo that you'd like to share for our Aloha Friday Photo series? Please let me know.