How to see Kealakekua Bay on Hawaii's Big Island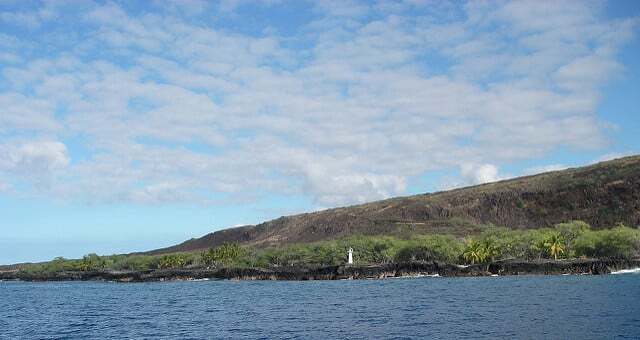 Kealakekua Bay State Historical Park is not only picturesque, this remote bay is significant for three main reasons –
It's the site of the first extensive interaction between Hawaiians and Westerners with the arrival of Captain James Cook. Here, you'll find the Captain Cook Monument.
It's one of Hawaii's top snorkeling spots.
Kealakekua Bay was once a major Hawaiian settlement where many ali'i (chiefs) lived.
This Hawaii state park brochure provides a great overview of the history of Kealakekua Bay.
Kealakekua Bay is located south of Kona. See this Google Map of Kealakekua Bay for an overview of the area. From first glance at the map, you might think that there's easy access to the bay and a close view of Captain James Cook Monument, but it's not as easy as you might think. The only ways to access this historic bay and the monument is by:
Tour boat
Organized kayak tour
4 – 6 hour round-trip hike
We've visited this bay three times — all by boat tours. The first time we took an organized snorkel tour with Fair Wind II. (See our review of snorkeling in Kealakekua Bay.) Our second visit was with Body Glove on a Historic Kona Coast sunset cruise. Our third visit was with Ali'i Ocean Tours with a dolphin experience.
Here's a YouTube video that gives you a peek at the beauty and history of Kealakekua Bay.

Have you been to Kealakekua Bay? Which access method did you choose? How was your visit?
Important Update: To prevent damage to the Ka'awaloa shoreline and coral reef and accidental destruction of significant historic and cultural sites by large numbers of visitors, DLNR is now requiring visitors to Kealakekua Bay State Historical Park to receive information and guidance regarding sensitive sites and how to assist in preserving the area during their visit. Information will be provided through a simple permit system for people seeking to land vessels along the Ka'awaloa shoreline or moor at the wharf adjacent to the Captain Cook Monument in the bay. This new initiative is effective beginning February 23, 2010. For information on how to obtain a permit contact the State Parks office in Hilo at (808) 974-6200..