Review: Hawaiian-Style Hot Dogs at Puka Dog Restaurants
After a recent trip to Kauai,  Shane Eubanks of Insider Travel Group generously agreed to write a guest review of his visit to one of the quirkiest hot dog places you'll ever find, Puka Dog. Thanks, Shane!
If you're planning a visit to Kauai or Oahu and are looking for a unique place to eat, then be sure to check out Puka Dog in Poipu or Waikiki. You may be asking yourself, "What in the world is a Puka Dog?"  Well, it's a "Hawaiian Style Hot Dog" as they call it and most likely the tastiest hot dog you will ever eat in your entire life! Now…you may be asking, "Why in the world would I go all the way to Kauai and eat a hot dog?!?!" Trust us…it's one of the most unique as well as yummy treats on the entire island of Kauai!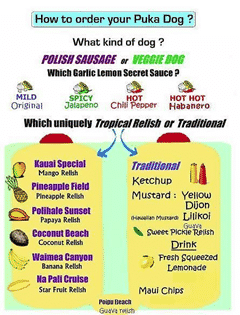 "Puka" is the Hawaiian word for "hole" and basically what this means is the Puka Dog consists of a fully enclosed hot dog bun with a single hole at one end of it that is the opening for all of the good stuff to go.
It all starts with selecting between a polish sausage or a vegetarian version.
From there you choose your sauce with choices of mild, spicy, and red hot. But just as a heads up, none of them are really "spicy" once you add the third step, which is the best!
Next you choose between all sorts of homemade fruit relishes made from various fruit found on Kauai. This includes mango, pineapple, banana, star fruit, and guava just to name a few. They'll let you sample each to help you decide, but just about all of them are delicious!
Finally you choose the "typical" toppings of ketchup, mustard, etc. For an added bonus, they have lilikoi, which is a Hawaiian mustard that has more of a sweet flavor….and it's amazing!
To wash it all down, be sure to get their fresh and homemade lemonade. It tastes great and goes extremely well with the Puka Dog.
So…with so many options, you may be wondering exactly which combination is the best. Well here's the most popular combo that gets the most orders: polish sausage, spicy jalapeño sauce, mango relish, and lilikoi mustard. That combo is guaranteed to give you arguably the best hot dog you've ever eaten in your life…Hawaiian style!
ISLAND OF KAUAI
Poipu Shopping Village
2650 Kiahuna Plantation Dr.
KOLOA /HAWAII 96756
Phone: 808-742-6044
Monday – Sunday
10 AM to 8 PM
ISLAND OF OAHU
Waikiki Town Center
2301 Kuhio Avenue # 2
HONOLULU/ HAWAII 96815
Phone: 808 924-7887
Monday – Sunday
10 AM to 10 PM