Kauai's 13th Annual Festival of Lights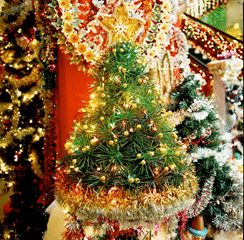 The Garden Isle of Kauai is decorating for the Christmas season with their Festival of Lights that runs from December 4 – 24.  This Christmas celebration was created by the community of Kauai to continue a local tradition that was started more than 50 years ago by "Auntie" Josie Chansky, a folk artist born and raised on Kauai. Auntie Jose
I think you'll love the background on this tradition. Here's the story as it was shared to me:
Kauai's Festival of Lights was created, because of Auntie Josie's art and contribution to the people of the islands. For nearly 40 years, first on Oahu and then 18 years on Kauai, Auntie Josie opened her home to neighbors, strangers, tourists – everyone and anyone. People just started showing up on her lawn and then at her door.  They wanted to see all the Christmas folk art decorations that she created and displayed on the outside and inside of her home. Auntie Josie's home became known as "The Christmas House."  Generations of families began making "The Christmas House" part of their holiday traditions to see favorites such as a Christmas tree made of 7,500 green toothpicks, wreaths formed from egg cartons, table decorations constructed with seed pods, and a chandelier fashioned from wire coat hangers.  Auntie Josie transformed these humble materials into sparkling treasures.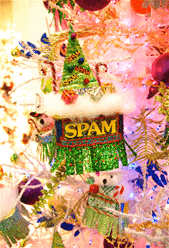 Auntie Josie's husband passed away in 1996.  Out of grief and the sad realization that she did not have the strength to put up all the decorations herself, Auntie Josie held a garage sale.  Luckily, the loss of the "The Christmas House" to the community was recognized and her entire collection was saved by a community member and donated to the County of Kauai. Festival of Lights was born and continues to be run by community volunteers with funding by the County of Kauai, Office of Economic Development, Hawaii Tourism Authority, individuals and private businesses.
Auntie Josie passed away this past February, but she will certainly be remembered for creating a wonderful holiday tradition. More than 5,000 people are expected to attend this year's Opening Night on December 4 at the Historic County Building.  The Festival begins at 6:00 p.m. with caroling by the Kauai Chorale.  Next, Santa arrives and with assistance from all keiki (children), leads a spectacular Lighting Countdown of the hundreds of thousands of lights that will illuminate the Historic Park.  The doors then officially open for viewing of the interior of the Historic County Building and its illuminated Christmas decorations.  Not only will visitors see the spectacular decorations, they will also hear the beautiful voices of the Kapaa Middle School Choir.  This is followed by the Lights on Rice Parade at 6:30 p.m., a unique showcase of island lighted floats.
Festival of Lights runs through December 24, 2009.  Visitors can enjoy the Christmas decorations within the Historic County Building between 6:00-8:00 p.m. every Friday-Sunday. Families can also visit Santa and Mrs. Claus.  Docents will be present to provide background on the collection.  For more information, please contact 808-828-0014 or friends@thefestivaloflights.info or check out KauaiFestivalOfLights.com.