Review: Kauai's St. Regis Princeville Resort
My friend Shane Eubanks of Insider Travel Group recently asked for my opinion on where he should stay on Kauai for a romantic vacation. He had narrowed down his choices and when I saw that the St. Regis Princeville was on his short list, I urged him to stay there. I asked Shane if he would be willing to write a review of his stay and he graciously agreed. Mahalo, Shane, for taking the time to share your experience at the St. Regis Princeville Resort.
If you're looking for a 5-star luxury vacation in Hawaii, then be sure to check out the newly renovated St. Regis Princeville on the lush island of Kauai. Formally known as the Princeville Resort, it underwent a major renovation in 2009 to transform it from a rich, Asian motif to more natural Hawaiian surroundings with Koa wood and original island artwork. They also brought everything from service to amenities up to the St. Regis standards, which will continually have you saying "WOW".
The "experience" of the St. Regis Princeville starts as soon as you pull up to the resort. Upon arriving at the front door, you're welcomed by name and with a lei greeting and then personally escorted in to someone who is ready to check you in. You actually sit at a desk (rather than standing) and are given very personal treatment. St. Regis Princeville truly nailed the entire check-in process…it's simply perfect!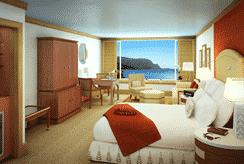 There are a variety of rooms to choose from of various sizes along with ocean or island views. The room we stayed in was a Premium Ocean View room with a breathtaking view of Hanalei Bay and Bali Hai. With this view, we were determined to change the state's name to HaWOWii! The windows completely open up to give you a fully unobstructed view from which you can take some amazing pictures…especially at sunset, which can be phenomenal as the sun typically sets behind the Bali Hai mountain.
St. Regis literally thought of just about everything when it comes to the rooms. Rather than a simple "do not disturb" or "service please" sign to hang on the door, they instead have a digital panel that you press inside your room and it lights up on the outside for them to see. No worries of kids stealing signs or turning them around for surprise visits in the morning! The rooms even have suitcase stands that you lay the cases on so that they sit waist high for easy access. Also, rooms include large TVs, ipod docking stations, a dvd player, and other gadgets. They literally thought of just about everything!
The feature that will most likely have you saying "WOW" is the privacy screen in the bathrooms. There is a large, see-through window that separates the shower from the rest of the room, but with a flick of a switch, the window turns an opaque white from which you can only see shadows through. So you can essentially shower while looking through the window at the incredible view….or you can just kep an eye on your kids! Amazing concept!
St. Regis Princeville offers numerous amenities available:
Full-service spa
Exercise room
Snack café
Concierge
Swimming pool / hot tub / hammocks
Children's areas
Multiple restaurants
and more…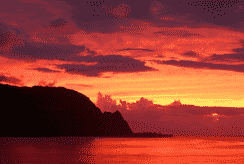 As for dining, the Makana Terrace offers breakfast, lunch, and dinner with tables inside or outside that look out over Hanalei Bay and the beautiful Bali Hai. The buffet breakfast is arguably the best on the island offering numerous choices of island fruit, drinks, pastries, nuts, etc. It runs about $25 per person, but the food selection and quality is top notch and the view absolutely cannot be beat. Dinner at the Makana Terrace offers the opportunity to see an amazing sunset, but be sure to ask when sunset is and get reservations around that for the best experience. While dinner at the Makana Terrace is nice, we feel the breakfast wins out as far as the food goes…it really is that good!
If you have any questions at all, be sure to ask a concierge as they are extremely knowledgeable of the area and can help you with just about anything. Whether you need advice for dinner reservations or simply need directions, they are available during the day for you.
St. Regis Princeville has really set the bar for luxury resorts in Hawaii. Combined with the lush, tropical paradise of Kauai, this is the perfect place for honeymoons, anniversaries, romantic retreats, etc. I wouldn't necessarily suggest the St. Regis for families with children as there are other resorts that are more "child-friendly" available in the Poipu area. But if you're looking for a luxury resort to spend with a loved one or even some friends, be sure to put the St. Regis Princeville at the top of your list! You'll see why we are now calling it HaWOWii!!
The St. Regis Princeville Resort
5520 Kahaku Road, Kauai, HI
(808) 826-9644
http://www.stregisprinceville.com
—–
A note from Sheila: See their special offers page. This current deal is especially enticing: "Rates from $345 per night. Available for stays all days of the week. Book by November 17 for stays now – April 25, 2010. Book online, or call 866-924-8704 and reference rate plan SETJLTO with special number 383511. Blackout dates may apply."
March 2011 Update: See photos from St Regis Princeville from our own stay.
Have you stayed at the St. Regis Princeville? How was your stay?