Hawaii Vacation Misadventures of Andy & Sheila: Luggage Overload Edition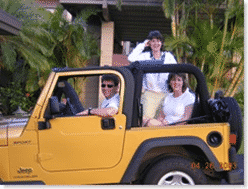 On our first vacation to Hawaii, we traveled with a couple of great friends who had their heart set on renting a Jeep Wrangler. So that's what we booked.
All four of us way over packed. If I remember correctly, Andy and I brought two cases each. Of course, our friends had their luggage, too. On top of that, the guys brought golf clubs. In total, I think we had about 10 medium to large-sized bags.
After landing and collecting our luggage and picking up the Jeep, we began this challenge of fitting our 10 pieces of luggage and four adults into the this little box of a vehicle. It was like working a jigsaw puzzle. We'd try combination after combination trying to fit it in. We soon realized we had to take the soft top off the Jeep. There was no way the luggage would fit with the top on.
After quite a bit of finagling, we had accomplished what seemed like an impossible task. Our luggage fit — barely!
So, we're in the car, ready to find our condo and get this vacation started. My friend Sheryl and I sat in the back seat gripping onto this tall mound of luggage between us. We couldn't even see each other. As we're leaving the airport, we hear a thud. We look behind us, and sure enough, one of our pieces had fallen out of the open Jeep. Screeeetch! We had to stop and turn around to pick up the bag.
Not only was this mountain of luggage tall, it was wide, too. Sheryl and I were both squished to our edges – we even had to stick our heads out of the side of the Jeep. I can't tell you how humiliated we both felt sticking our heads out. Now I know what it feels like to be a dog sticking their head out the window! Other drivers couldn't help but gawk at this canary yellow Jeep mounded with luggage and two heads poking out the sides.
As if the embarrassment of sticking our heads out of the side of the Jeep wasn't enough, we had to follow a diesel-fueled tour bus for probably 20 miles – with our faces as magnets to capture the black exhaust from the bus. Our faces and necks were covered with diesel fumes and residue. Nice, eh?
Luckily, we were all able to laugh at the situation and ourselves. From that experience, Andy and I had some lessons learned. We are now proponents of packing light. We learned that we didn't need all the clothes and stuff we brought with us the first time. We also learned that renting a Jeep in Hawaii puts you in a more vulnerable position for theft. (See my post on thinking twice about renting a convertible or jeep in Hawaii.)
—–
This post is part of a series of mishaps. Click here to see more posts in our misadventures series.
Have you had a vacation mishap from over packing and/or not choosing the right-sized rental vehicle?