Wrapping Up The 50 Facts About Hawaii Series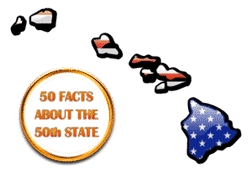 Well, here we are at the finish line of our 50 facts about the 50th State marathon. Other than celebrating the 50th anniversary of Hawaii's statehood, my intention with this series was to highlight the uniqueness of Hawaii. I'm pleased to say that I believe we now have fifty facts under our belt to prove that point.
When I began this series, I wasn't entirely sure what facts I'd be publishing. In fact, I didn't even have an organized list of all fifty facts pre-set. In my mind, I reeled off a bunch of ideas, but certainly not nearly fifty of them. At times, I wondered if I may have been too ambitious, but I had faith that I'd be able to find enough interesting facts about Hawaii. I'm glad that my faith came to fruition.
As a reminder, if you'd like to see all fifty facts together in one place, I've created a special category, "50 Facts about Hawaii". I'd really love to know your thoughts on this series. Please comment to let me know which fact(s) enjoyed the most? Did you learn something new that you didn't already know about Hawaii? I know I learned quite a few new aspects of Hawaii as I was researching each fact.
After researching and publishing a fact everyday for the last fifty consecutive days, I'm ready to take this weekend off. So, I'll catch ya next week! 🙂