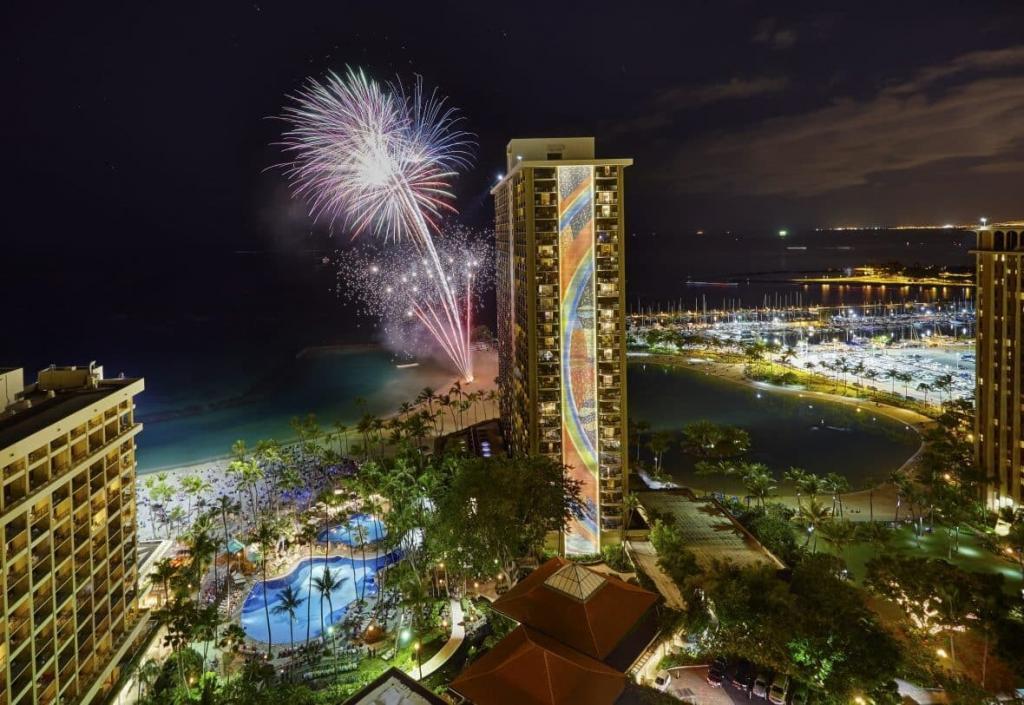 When you vacation on Oahu, make sure you make plans to start your weekend off with a bang. Each Friday evening the Hilton Hawaiian Village puts on a free firework show on Waikiki Beach.
The fireworks show usually begins around 7:45 p.m. to 8:00 p.m. The start depends on the season and daylight hours. Though subject to change, typically, the schedule goes as follows:
Summer months (June, July, August) – the show starts at 8:00 p.m.
All other months – the show tends to start at 7:45 p.m.
Please check this link to the host, Hilton Hawaiian Village, for any updates to the scheduled show times. Please note that the show time is subject to change and cancellation without notice.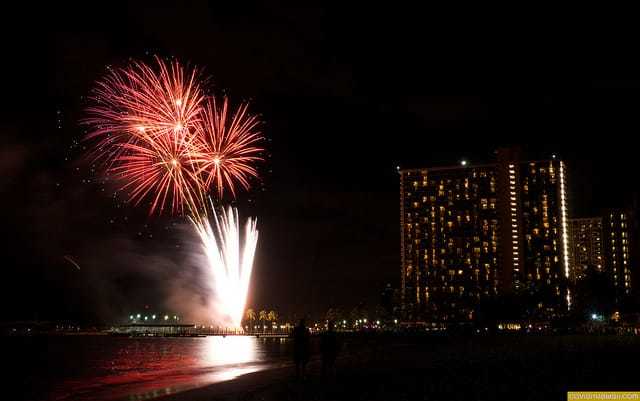 If you want to see the fireworks from the beach area, there are several great vantage points — around the Hilton Hawaiian Village and at the beach area by Fort Derussy. For folks staying in Waikiki Beach, just head out to the beach to watch anywhere from the Hilton Hawaiian Village to the Outrigger Reef Waikiki Beach Resort for the ideal view. (Please note that there are two Outrigger properties in Waikiki Beach, so make sure you are at the "Reef" location which is the westernmost of the two properties.)
Of course, if you are staying at the Hilton Hawaiian Village, you may want to find a spot near the Duke Kahahamoku Lagoon or perhaps even watch from your lanai if you have a view to the fireworks.
One vantage point for the fireworks that we really liked was from the concrete pier in front of the Outrigger Reef Waikiki Beach. It was a perfect location to see the fireworks reflecting off the water. (We were  able to capture a nice selection of fireworks photos.)
The fireworks are not visible from every spot of Waikiki Beach.  Take a look at the following Google Map and take note of the curvature of Waikiki Beach. Hilton Hawaiian Village is noted with the red place marker.

View Larger Map
Some boating companies offer cocktail and/or dinner cruises on Friday nights to see sunset and the Friday night fireworks. The view from the ocean looking back at the Honolulu city lights can be quite nice.
Fireworks can be tricky to photography. Check out our Hawaii fireworks photography advice.
As you make your plans to watch the fireworks, consider planning sunset picnic on the beach prior to the show. That way, you'll have a memorable dinner topped off by fireworks and it's all on the cheap! Bonus!
If you have any further questions regarding this fireworks show, contact the Hilton Hawaiian Village.
Have you seen the Friday night fireworks show in Waikiki Beach? Did you enjoy it?