Easiest Way to Find the Beach Camp Where Lost is Filmed
UPDATE: We have received reports that there are no longer any markings to indicate the exact location of the beach camp. You can still walk to the general area and it will look familiar to fans of the show.
—
We've visited the beach camp set where Lost is filmed twice now. The first time (June, 2007) we tried finding the short route, but were discouraged when we couldn't find the public beach access and felt unwelcome with a ton of 'no trespassing' and 'private property' signs. In the end, we took the long way by walking along the beach from Haleiwa Beach Park. On paper, it seems like a pretty easy walk, but it took us at least 30 minutes to walk about a half a mile or so from Haleiwa Beach Park to the Lost beach camp. This short walk was actually quite tiring because with each step our feet would sink deep into the sand.
Though it was a bit of a trek to get to the beach camp filming site, the miry walk was completely worth it. This beach camp has been in so many scenes of Lost that I felt like I was visiting an old friend. At some point I knew we had to tear ourselves away, but I really didn't want to leave the camp.
Just a couple of weeks ago, we revisited the Lost beach camp and we were determined to find the shorter route. I'm happy to report that we found the easiest route this time and took photos to help you find it, too. Here are the detailed directions for finding the easiest way to the Lost beach camp filming location.
1. Find Papailoa Road
Papailoa Road is a short dead end road runs slightly parallel to Kamehameha Highway (Highway 83) approximately two miles northeast of Haleiwa town. (For a Google satellite view of this area, click here.)
2. Find Public Beach Access
As you drive into Papailoa Road off Highway 83, look for the public beach access sign on your right hand side. I think it's easy to miss, in fact we drove right past it. I took the following photo the beach access sign so that you'll know what you need to be looking for.
3. Park Across Across the Road from the Beach Access
There's a dirt parking area directly across the road from the beach access sign. Cars were parked perpendicular to the street. Here's a photo.
I should note that you need to be very careful that you do not leave any valuables in your rental car. Don't even leave a hint that there might be valuables, e.g., don't park and put stuff in the glove box or in the trunk. The reason I caution you is that if you look closely at the ground to the right of the black sedan, you'll see broken glass. That glass is most likely the remnants of a smash and grab theft. (See my post on protecting your valuables.)
4. Take the Public Beach Access to the Beach then Turn Left
After you take the beach access path, you'll need to turn left (Southwest) and walk on the beach for 10 minutes. Most likely you'll either see yellow caution tape or a temporary orange fence at the beach. Here's a photo of the approach. The orange netting was used to protect the camp area when the show was being filmed. Per reports from readers, the netting is no longer there.
If you look southwest along the coast line the following scene should look very familiar.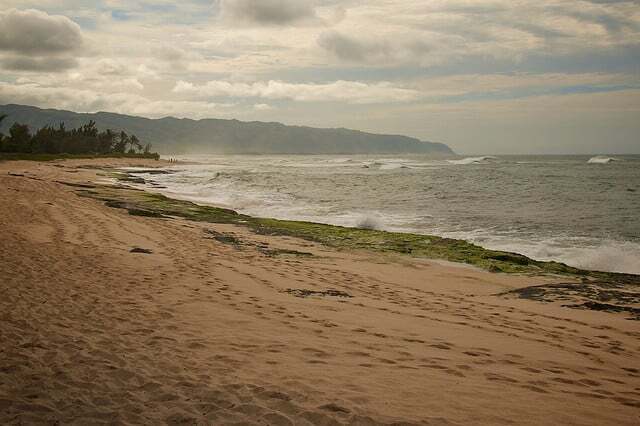 Please respect this private property. I should note that all of Hawaii's beaches are open to the public, but the areas that have trees and shrubs are typically private property.
I didn't notice as many 'no trespassing' and 'private property' signs on this recent visit. I wonder if the local residents were required to remove some of them.
You can see more of our photos from this recent visit to the Lost beach camp filming site. If you're interesting in finding other Lost filming locations on Oahu, see my previous post on finding Lost filming sites.
Have you visited the Lost beach camp? How did you get to it? What was your experience?