Signs of Hawaii: Coconut Tree Warning
A nice reader, James from Maui, sent in this photo to share in the signs of Hawaii series. James took this photo at the Kahanu botanical garden near Hana that is home to the Hale O Piilani heiau. Mahalo, James, for sharing your photo!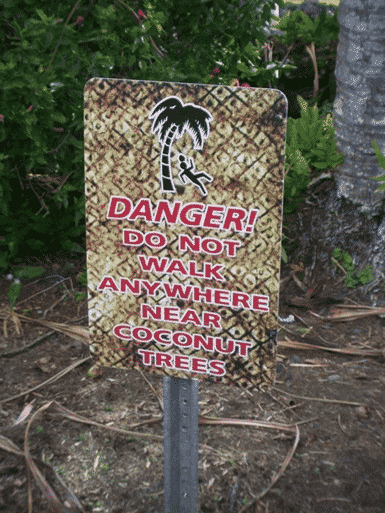 I wonder if the sign in James' photo is the cousin to the following sign that Andy and I found on the Big Island.
When I originally posted the above photo, we had an entertaining conversation in the comments about the dangers of coconuts. You can see that post and read the comments here. Honestly, I'm torn between laughing at the novelty of the signs and heeding the warning very seriously.
I've never been injured by a falling coconut, thankfully. I have seen a parked car that had been hit and dented by a fallen coconut. So, how dangerous do you think falling coconuts are?