Kayaking Oahu's Mokulua Islands with Kailua Sailboards & Kayaks
On my recent trip to Oahu, one of the activities high on my list was to kayak picturesque Kailua Bay to the Mokulua Islands. I was really excited about this adventure and it didn't disappoint.
Though Andy and I have kayaked in other places, we're not exactly seasoned kayakers so we were looking for a guided tour. We took the four-hour eco-tour with Kailua Sailboards and Kayaks which was recommended to us.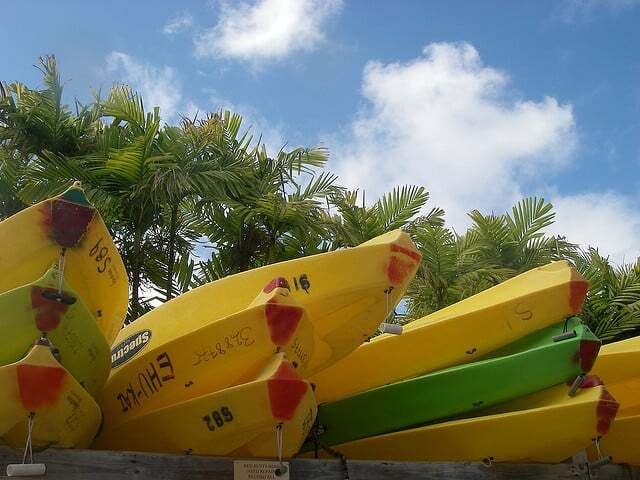 The tour began at the Kailua Sailboard and Kayaks shop where we met our tour guide, Nate, and the two other couples that were also going on the tour. (Note that the tour size is typically limited to 6 – 8 people.) We stored our valuables and belongings that we didn't want to get wet in lockers and observed the thorough safety briefing. Next we grabbed our two-person kayaks and rolled them on a short walk to Kailua Beach to put in. One of the trickier parts was getting in and out of the kayaks and Nate helped us individually.
We enjoyed being out on the water. The scenery included the pale blue water, white sandy beaches and green mountains. It was really beautiful. We felt more connected to the environment as we were gliding on water in the kayaks.
Our guide knew the currents and coral of the bay like the back of his hand, so he gave us guidance on what to avoid and how to avoid it. We appreciated having his expertise and watchful eye for our safety.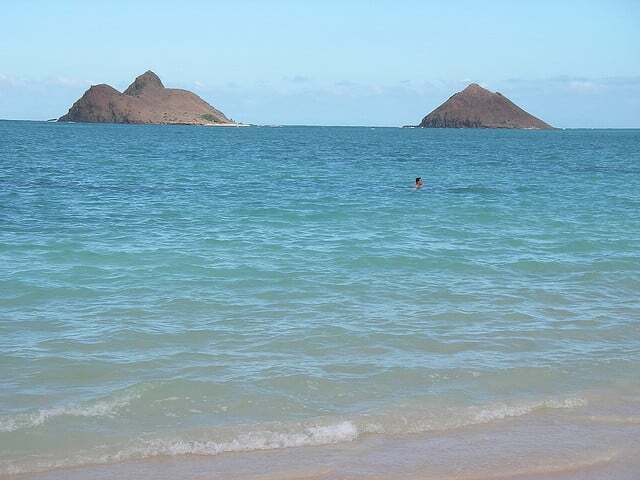 There are two Mokulau Islands and we stopped at the one with the safer landing point. I believe the island is called Mokunui. We landed at a small, but lovely sandy beach. There, we could snorkel if we wanted. Andy and I opted to soak in the scenery above the water, but one of the other couples snorkeled and saw a sea turtle. Lunch was provided on the beach. We had generously stacked deli sandwiches, chips, fruit and sodas and water. It was a nice lunch and the surrounding view couldn't be beat.
After lunch, Nate led us on a tour of the island where we saw many Uau kani (wedged-tailed shearwater birds) nesting–the Mokulua Islands are bird sanctuaries. See a photo of this bird here. We also saw rock crabs and small fish in the tidepools.
After our time on the island, we kayaked back to Kailua Beach. Along the way we got to kayak surf, which was really fun. If I'm not mistaken, I believe we kayaked about 5 kilometers in total. We definitely felt like we had exerted some energy.
Here's what to know before you go:
You don't need to be in super fit to kayak Kailua Bay, but you do need to be in relatively good shape and have the ability to swim without a personal flotation device. Note that PFDs were provided and we all wore them.
You must 13 or older for this tour.
If you take one of the guided tours, the company will provide transportation to and from Waikiki hotels. We opted to drive our rental car, though.
Lunch, dry bags, and snorkel equipment were provided.
Wear sunscreen!
Wear sunglasses, preferably with an attachment that will keep them from blowing away.
Wear a hat or visor.
Bring a waterproof camera.
Most folks were wearing quick drying shirts and shorts/swim trunks. I was the only one wearing a swimsuit and I was a little self conscious. (Oops!)
The cost of the four-hour, guided eco tour is $119. Other tours tours are also available.
If you prefer, you can simply rent a kayak, watch a safety video about the bay and go on your own. Half day kayak rentals start at $39.
I wish we had taken a snapshot while we were kayaking, but we were too busy paddling to get the camera out. You can see all the photos we took on this tour. I found this YouTube video created by Kailua Sailboards and Kayaks that provides a good overview of what the tour is like.
We were really pleased with this tour and it seemed like the other couples also enjoyed it. The company was friendly and our guide was very knowledgeable about the patterns of the water and the geology and wildlife on the island. It was a great way to spend the day!