Maui Weather Forecast Resources for Your Vacation
Maui's weather is wonderful year round and if you're headed there, then you'll want to know how the weather is looking. See our Maui weather guide for more information about seasons and micro-climates.
For upcoming weather forecasts, here are some resources to help you out.
Long-Range Weather Forecasting
There's a saying that past behavior is the best predictor of future behavior.  To a large extent that's true for the weather. Here are the average temperatures for Kahului Maui where the main airport is.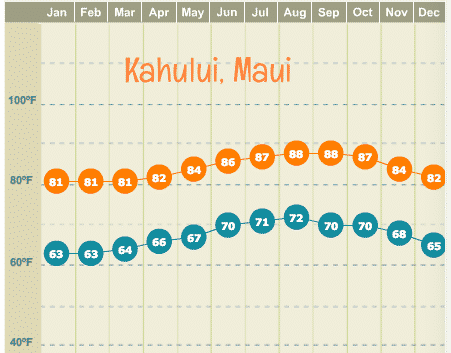 For Kahului, Maui rainfall averages, see this chart: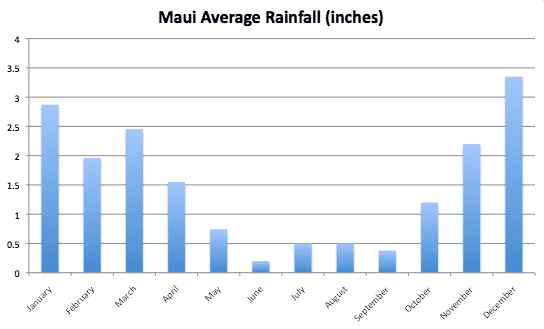 Those averages are a great indicator of future weather.  For example, you can see that January is the coolest and rainiest month while June is one of the warmer and drier months.
Seven to Ten Days Out
Maui News, the island's newspaper has a weather forecast section that allows you to focus on the weather for specific areas of the island.
Weather.com offers ten-day weather forecasts.  Here's the link for Maui's 10-day forecast.
Weather Forecast When You are On Your Maui Vacation
The National Weather Service offers a toll-free telephone number to hear more detailed and shorter term weather forecasts. That toll-free number is (866) 944-5025.  In addition to the general weather forecast, this automated phone service offers a wealth of information including:
Sunrise, sunset and tide times.
Haleakala summit forecast, which would be particularly useful if you plan to go to see Haleakala sunrise or sunset.
Coastal water weather predictions including wind strength and wave heights.  This information would be useful if you plan to do any sailing, sea kayaking, or snorkeling.
What Maui weather forecasts do you use?