Where do I live on Hawaii?
I have to smile every time I'm asked which island I call home in Hawaii. The funny thing is I don't live in Hawaii and I never have. I'm just a frequent visitor who fell in love with Hawaii on my first vacation to Maui in 2003. Since then, I've been fortunate to have vacationed on all the islands and returned many times. We've actually lost count of the number of times we've been to the Aloha State. Along the way, I have picked up many tips and tricks for travel to Hawaii that I love to share here.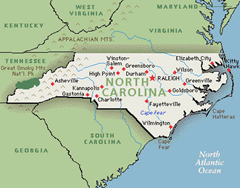 So where do I live? Most people would guess on the West Coast since it's quicker and easier to get to Hawaii from there, but I actually live on the East Coast – just about as far from Hawaii as you can get from the US Mainland. I live "on the island" of North Carolina in the beautiful capital city of Raleigh. So, hopefully you'll forgive me from time to time if I accidentally say "Aloha, y'all!" 🙂
Sometimes I'm asked if I'd like to move to Hawaii. While I love Hawaii dearly, I'm very happy to call North Carolina home. Hawaii is where I love to vacation. North Carolina is where I love to live.
Some may perceive that it is a weakness that I write about Hawaii travel and I don't even live there. I believe it's actually a big benefit to Go Visit Hawaii readers that I'm a visitor just you are. I understand all the challenges and confusion that come along with planning Hawaii vacations. I know what visitors like and what they don't like. My articles are designed to be honest and practical advice for visiting Hawaii.
So now that you know what "island" I live on 😉 please tell me where you call home. I'd love to know where Go Visit Hawaii readers live. Please let me know in the comments.