Hiking the Big Island's Pololu Trail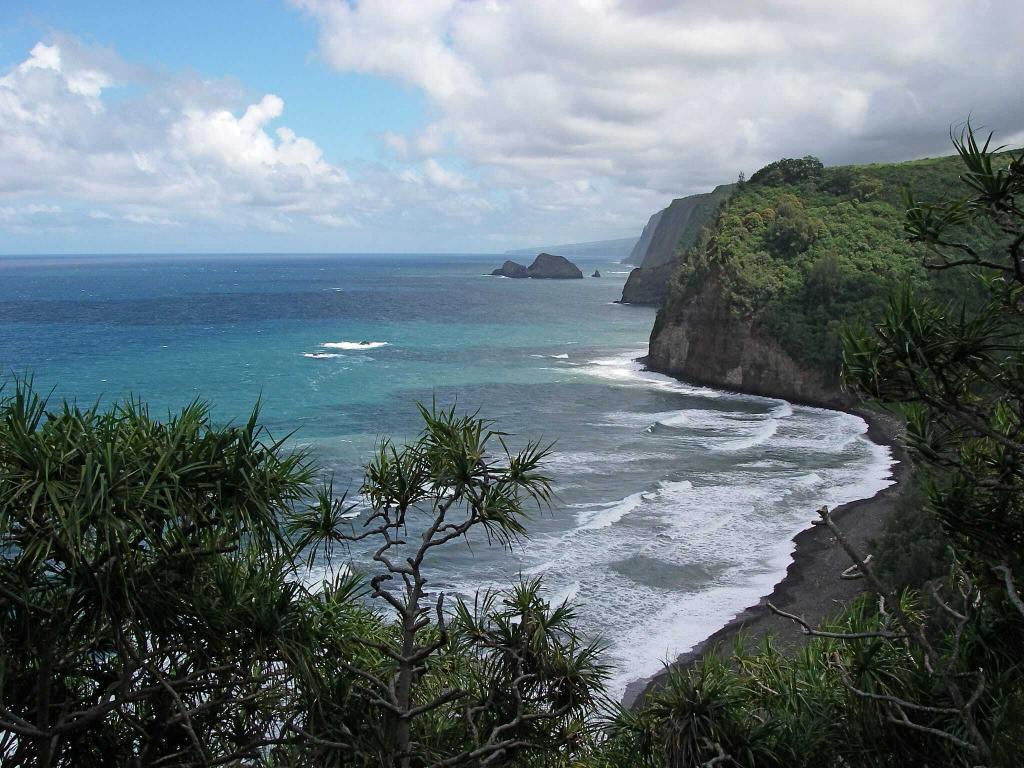 The Pololu Valley has to be in the top ten most beautiful scenes on the Big Island. You can drive right up to the Pololu Valley lookout. If you have about an hour and you are hankering for a hike, then follow the Pololu Trail down to the black sand beach below.
The trail head begins at the end of the paved parking area at the lookout. This trail descends 420 feet along the face of a cliff. The trail can be slightly technical at points, so wearing proper hiking shoes is advised. We also brought our hiking poles which helped. As with all Hawaii hikes, we recommend you wear sunscreen and a hat, plus bring water and mosquito repellant.
The hike from the top down to the beach level takes about 20 – 30 minutes. Do take your time and stop to enjoy the pretty views of the valley along the way.
Once you get down to the beach, you can admire the depth of the valley on one side and the strength of the ocean pounding against the black sand beach on the other side. This beach is not for swimming, so don't even think about taking a dip to cool off.
The Pololu Trail can be very slippery when wet and we know from experience. Just take a look at the photo on the left and you'll quickly see why. Areas of the trail are simply steep sections of packed dirt. We were hoofing it as fast as we could on the way back up because we could see the rain headed our way. We didn't make it off the trail before the rain arrived, so we experienced how slick the trail can be with just a little bit of rain.
The state only owns the land along the trail and down to the beach, so that is the only area open for public access. Any suggestion of hiking beyond the beach to the other valleys without a permit would be considered trespassing. I also believe that the October 2006 earthquake damaged the trails beyond the beach.
You can see more photos and a video of Pololu Beach
—
See more ideas of what to see and do on your Big Island vacation.