Please Protect Hawaii's Tropical Fish and Coral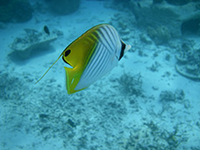 Hawaii's clean clear waters are teaming with gorgeous tropical fish and interesting coral reefs. A snorkeling or diving trip is truly a feast for the eyes.
Unfortunately, sometimes visitors can unknowingly cause tremendous damage to the underwater habitat. Two significant things you should avoid doing on a snorkeling and diving trip is touching the coral and feeding the fish. Okay, that's worth repeating:
Please don't feed the fish!
Please don't touch the coral!
A Maui News editorial on the topic of not feeding the fish describes why feeding wild fishes is harmful to them and to the nourishing coral reefs.
Reefs suffer from the hand-feeding. Once used to getting handouts, fishes that normally graze on algae and seaweed ignore the natural provisions. That leads to the reefs being smothered. Coral is created by tiny animals the reason they should never be touched. Those animals need sunlight the reason reefs are relatively close to the surface. Algae and seaweed block the life-giving sunlight.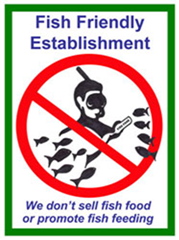 As you shop around for snorkeling and diving tours in Hawaii, keep an eye open for the image on the left or other statements indicating a fish-food free policy.
If you have a snorkeling or diving tour business, as a frequent visitor to Hawaii, I encourage you to have a fish-food free policy. With a little bit of education and explanation the vast majority of your customers will be extremely supportive of the policy.
My friend, Cheryl, who writes at Hawaiian Vacation Gifts Blog, wrote an excellent post on Hawaiian Ocean Life and Coral Reef Etiquette. In this post, she shares a link to an entertaining and educational video on preventing damage to the coral. To see the video, The Hawai`i Reef Etiquette P S A_(7:35) Click here to watch The video lasts less than eight minutes and is well worth your time. Also, take a couple of minutes to review the great tips for snorkeling and diving at the Coral Reef Alliance web site.