Holiday Air Travel Strategies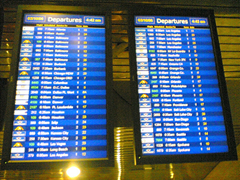 Are you going to Hawaii for Thanksgiving or Christmas? Hawaii is a popular Thanksgiving and Christmas destination. Airports and planes will be packed and it is starting to be that time of year that winter weather forces delays and cancellations. With a bit of planning, you can be prepared to minimize any potential inconveniences. As Thanksgiving is only a week away, I thought I'd share some savvy tips I've stumbled across.
Peter Greenberg, the author of "The Complete Travel Detective Bible", had an interesting interview with The Charlotte Observer. Here is a summary of some of his better suggestions:
Greenberg says that travel around Thanksgiving is the worst time of the year for air passengers. He advises to to fly early the morning of Thanksgiving and begin your flight back on Friday around lunch time where you'll find the planes much more roomy. It may be too late for you to change your plans for this Thanksgiving, but a good point to bear in mind for next year.
Don't check bags. If you do have presents or you absolutely must bring your entire shoe collection, then ship your bags to your destination instead of checking them. You will significant time from having to stand in long lines to check your luggage and then waiting for your luggage to arrive in baggage claim. After my luggage got lost temporarily at the Kauai airport, a few years ago, I vowed to avoid checking luggage at all costs. I have learned the many joys and benefits of traveling light.
Don't trust departure boards. Greenberg says these boards "haven't told the truth since 1947." He advises using the departure boards only for finding your departure gate. Once you get to the gate, survey the scene and check for the arrival of the plane on which you'll be leaving.
Prepare back up plans. If your plane is stranded and can't get to your airport, you'll need to very quickly get to work on plan B. Instead of standing in long lines at the airport, Greenberg advises to call the airline's toll free number. You're much more likely to get an alternative option quicker by calling the airline rather than standing in line.
Another good resource to add to your hassle-free travel strategies is the FareCompare.com Essential Holiday Travel Checklist. The checklist is loaded with excellent ideas and strategies. I highly encourage you to check them out.
WRAL recommends that if you will be traveling with gifts to bring them on board if possible and don't wrap them or you'll risk that security will make you unwrap them. WRAL also recommends sending gifts ahead of time.
I hope these ideas will help you have stress-free holiday travels. Will you be traveling for the holidays? What additional strategies will you be using?
Photo Credit to allaboutgeorge at Flickr