Free & Cheap Parking at Waikiki Beach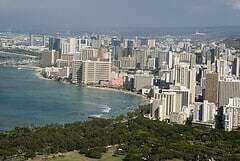 If you have ever been to Waikiki Beach, you probably know that finding a free or inexpensive parking space can be challenge. We've created this list of resources to help you find the best parking deals in Waikiki.
Cheap and Free Waikiki Parking for Short-Term Visits — Less than 10 hours
If you are driving into Waikiki for the day or evening, you can find some very reasonable parking locations. See these resources for low-cost and/or no-cost parking options.
* Waikiki Shell parking lot on Monsarrat Avenue offers inexpensive parking. When we checked on October 2019, the rate started at $6 per day. See this link for parking options and pricing. This parking area is located on the Diamond Head side of Waikiki, near Honolulu Zoo and Kapiolani Park. No overnight parking is allowed.
* Complimentary valet parking is offered if you spend $20 at a Waikiki Beach Walk shop or restaurant between the hours of 10am and 3pm. See this link for more information.
* Royal Hawaiian Center offers free parking with validation for up to two hours. After the first and second hours, you'll be charged a modest rate of $2 per hour for another 2 hours. A minimum purchase is required for the free/reduced rate.  See this link for more information.
* Metered parking is available at the Honolulu Zoo parking lot entrance at Kapahulu Avenue. The rate is $1.50 per hour. You can only park up to four hours maximum. For more information, see this link.
* The Waikiki Shopping Plaza offers $7 and $10 flat rate parking specials some evening and weekend hours. See this link for more details and any updated pricing and policies.
* See this list of Waikiki parking garages and locations with their associated fees.
Cheap Waikiki Parking for Long-Term Visits  — Overnight Parking
If you're staying in a hotel in Waikiki Beach, you can expect to pay an approximate average around $40 per day for parking. Valet parking rates can be even more. Be sure and check your hotel's parking options and rates before you shop around for something cheaper. If your hotel charges $40 or less per night, you've found a pretty good parking deal for Waikiki Beach.
Over the years, options for free overnight parking have virtually vanished. Many of the spaces that were previously free are now metered. This site has some of the Waikiki parking options for the general public for you to get an idea of what various garages charge.
Waikiki Beach Parking Tips
* If you park in a parking garage, take photos of your parking space number or any other "landmarks" with your cell phone to help you find your car when you return. Trust me, it's easy to forget where you parked.
* Never leave any valuables in your car.
* If you know which parking garage you'd like to use from the lists above, it's very helpful to check the street view on Google Maps to get familiar with the location.
* If possible, bring cash for parking as some garages require cash only.
* See our article with tips for driving and parking in Waikiki.
—-
Please note that parking rates and policies are always subject to change without notice. I do update this list as and when I discover changes. It was most recently updated October 2019.
I highly recommend you check the parking providers websites and or phone ahead directly to them to check their current rates and policies.
Looking for more bargains for what to do on your Oahu vacation? Don't miss my top 10 best Oahu budget activities.