Conde Nast Travelers Say Hawaii Golf Resorts are the Best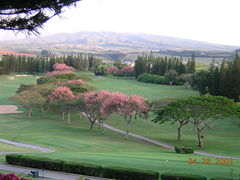 Conde Nast Traveler magazine has just issued their 2007 complete list of the best golf resorts in the world. It's no surprise that Hawaii courses are the best. In fact, the top three golf resorts are in Hawaii. Here's how the Hawaii courses stacked up:
1. Four Seasons Resort, The Lodge at Koele on Lanai
2. Four Seasons Resort Hualalai on the Big Island
3. Four Seasons Resort at Manele Bay on Lanai
16. Ritz-Carlton Kapalua on Maui (Note: Kapalua Course in shown in the photo on the left.)
19. Four Seasons Resort at Wailea on Maui
20. Mauna Lani Resort on the Big Island
21. Grand Hyatt Kauai Resort and Spa on Kauai
37. Princeville Resort on Kauai
39. Fairmont Kea Lani on Maui
44. Hapuna Beach Prince Hotel on the Big Island
47. Mauna Kea Beach Hotel on the Big Island (Note: the hotel remains to be closed and the golf course was closed in May for upgrades and is not due to re-open until fourth quarter 2008)
55. Grand Wailea Resort, Hotel & Spa on Maui
70. Fairmont Orchid on the Big Island
72. Kauai Marriott Resort & Beach Club on Kauai
74. Hilton Waikoloa Village on the Big Island
86. Hyatt Regency Maui Resort & Spa on Maui
89. Renaissance Wailea Beach Resort on Maui (Note: This resort was closed this year and is being demolished to make way for the new Baccarat Resort.)
99. JW Marriott Ihilani Resort and Spa on Oahu
The magazine's readers also rated these best golf resorts for other categories and both Four Seasons Resorts on Lanai and the Four Seasons Resort Hualalai on the Big Island were mentioned. Here are the additional categories for the best golf resorts:
I'm somewhat surprised to see that Turtle Bay Resort on Oahu wasn't mentioned. What do you think of the list?