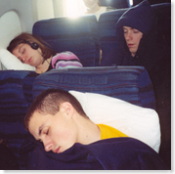 In my last article, I offered tips for trying to be as comfortable as possible on long flights. Many long flights are overnight flights that land you into a different time zone. For example, most flights from Hawaii to the mainland don't leave Hawaii until after 4 p.m. and arrive on the mainland in the early morning hours. To combat jet lag, it's important to try to get in as much sleep as you can on the flight.
There's no doubt that it is a challenge to sleep on a plane, particularly in a coach seat that only adjusts to an undetectable recline position. After many overnight flights, I've developed a few tried and true tricks to help me get off to sleep. I hope these tips will help you catch a nap on your next long flight.
Limit the amount of caffeine you drink the day of the flight and onboard.
Adjust your watch to the current time at your destination and get yourself in the mind set of being in that time zone. Do this as soon as you get seated on the plane.
Wear comfortable clothing. Avoid tight waistbands and any kind of clothes that restrict your movement. I have a "fancy" track suit (I call it my J-Lo suit) that I like to wear on overnight flights. It's stretchy and comfortable without looking like a dumpy sweat suit or pajamas.
Get a window seat. I think it makes it easier to sleep when I can lean against the window wall. Plus the passenger next to me is relieved that I'm not leaning against him or her. 😉 Alternatively, if you are lucky enough to find a row of empty seats, ask a flight attendant if you can snag them.
Bring a neck pillow, eye mask, earplugs and/or iPod or MP3 player. These items are your best sleeping buddies. The neck pillow offers great support to help you be in a comfortable sleeping position. The eye mask help you filter out light. Use ear plugs or personal music player to filter out noise. My secret weapon is to listen to a tropical rainforest sounds CD on repeat on my iPod. Any kind of spa or soft music that you find soothing will work beautifully.
Of course all these tips are much easier to implement in business or first class, if you are lucky enough to have a seat up front. Have you been able to sleep on a long plane trip? Do you have some tips to add? Please comment.
This post inspired by Sarah at BlueJar.com's writing project.