Kauai's Waimea Canyon and Kokee State Parks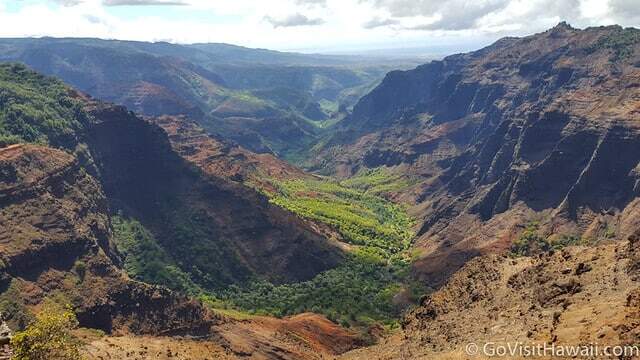 No visit to Kauai is complete without seeing the beautiful Waimea Canyon and the Kalalau Valley.
When you see Waimea Canyon, you might think you've been transported to Arizona, because Waimea Canyon has been dubbed the "Grand Canyon of the Pacific". The canyon is one mile wide by ten miles long and over 3,600 feet deep.
Waimea Canyon State Park and Kokee State Park are adjacent to each other on the west side of Kauai. (For a Google Map, click here.) There are two ways to get to these state parks via Highway 550 (Waimea Canyon Drive) and by Highway 552 (Kokee Road). The advice that I followed and liked was taking Waimea Canyon Drive up to the parks and return on Kokee Road. The two roads will join at higher elevations to then become HWY 550 and Kokee Road. Once the roads combine the road numbering and naming system is a lit bit confusing, but with so few roads to these gorgeous views, it's highly unlikely you'll lose your way. Just keep driving onwards until you reach the end of the paved highway.
At a minimum, you must drive to the parks to stop off and admire the beautiful vistas, but if you have a bit more time and energy, plan in a rewarding hike. I can recommend the Canyon Trail of Kokee State Park. It is approximately a 1.8 mile hike (one-way) into the canyon with stunning views. Allow three hours for this hike as you'll want to pause several times to enjoy the views. This hike is mostly downhill on the way in and uphill on the way back, so be sure you bring an energy bar and plenty of water. Good walking/hiking shoes and a hiking stick are also advised as the trail can be slippery after rain. You can learn more about hiking trails in Kokee State Park here and Waimea Canyon here.
The above photo is of Kalalau Valley, an iconic Kauai view. A visit to the Kalalau Valley lookout is not to be missed. Actually, there are two stops with views of the Kalalau Valley.  The first view point is at mile marker 18 of Hwy 550.  he second view point is about a mile or so past mile marker 18 and it's basically at the end of the paved highway.  In my opinion, the second view is a bit better.  To find it, drive to the end of the Waimea Canyon Drive in Kokee State Park. The Kalalau Valley is actually the southern end of the Na Pali Coast. If get to the lookout and find that the valley is cloud covered, be patient for a bit and the clouds may just roll away. That happened to me and my patience was rewarded by the above photo.
Tips for when you go:
A $10 parking fee per vehicle, plus a $5 entrance fee per person is required per car. Check this page for any updates to fees.
The elevation is between 3,200 and 4,200 feet and quite a bit cooler than at the beaches, so bring a jacket or sweater. Average daytime temperatures range from as low as 45 degrees F in January to 68 degrees F in July.
Make sure you have plenty of gas before you go, as there are no gas stations in the parks.
Allow for at least two to three hours in this area and longer if you plan to hike.
Stop in at the Kokee Museum for about 30 minutes if you have the time to spare. Admission is free. See more about visiting Kokee Museum.
There is only one restaurant in the area at Kokee Lodge, so plan accordingly.
Be advised that you will be driving on winding roads, so take precautions if you are prone to car sickness.
You may want to bring binoculars to enjoy closer views. Keep your eyes peeled for goats.