Hawaii Online Snorkeling Guide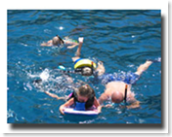 If you are looking for the best beaches for snorkeling in Hawaii, then here is the online snorkeling guide for you. The site gives insider tips from someone who was born and raised in Hawaii and knows the waters well. The guide mainly focuses on the best snorkeling beaches on Maui, Oahu and the Big Island. It includes interactive maps of each island.
Hawaii Snorkeling Guide offers very useful tips for choosing and using your snorkeling gear. It also provides tips for being safe and how to find the best spots where to see the most fish. It's a great site and the photos are almost worth the visit alone.
FYI – If you haven't seen this article already, be sure and check out this Q&A with Hawaii Snorkeling and Diving Experts.