Getting Hitched in Hawaii – Resources for Planning a Wedding in Hawaii
Destination weddings are becoming more and more popular, because they skip so much of the fuss in planning the big day and gets you closer to the "I do's" and onto the honeymoon. With the average cost of a traditional wedding being $26,000, destination weddings can save lots of money. A destination wedding helps the bride and groom focus more on the importance of the day and enjoy it rather than worrying about the logistics and guests.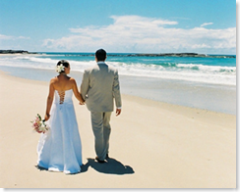 There are few places on earth that could equal Hawaii for a romantic destination wedding. From beaches to tropical gardens, Hawaii has it all. If you are considering a wedding in Hawaii, you can request free information and find out about special offers from here. Budget Travel has a very nice destination wedding workbook that you can download for free. To learn more about the requirements and process of getting a marriage license in Hawaii, check out the Hawaii Department of Health's web site.
Just think, if you get married in Hawaii, you'll have an excuse to return there every year to celebrate your anniversary. Not a bad idea at all. 🙂
Don't miss this fantastic Q&A with advice on hiring a photographer for your Hawaii wedding.