Finding filming locations for the hit television series LOST on Oahu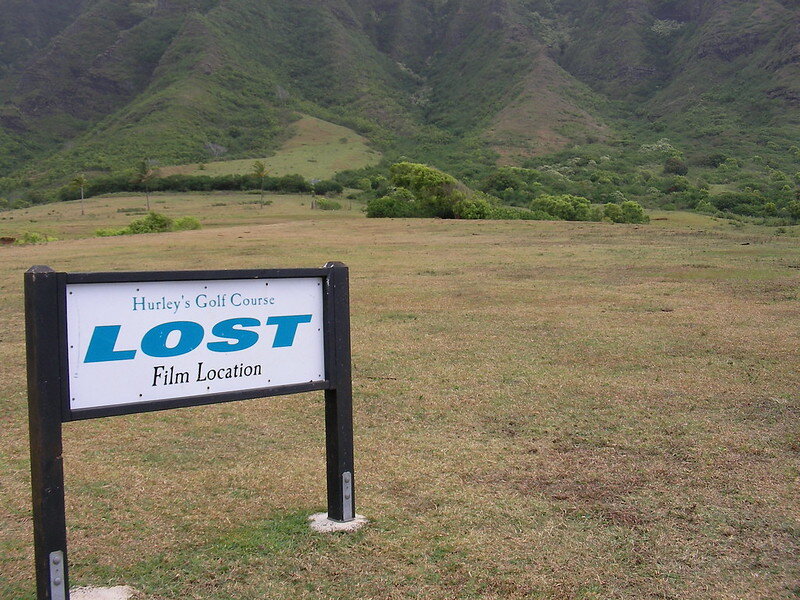 I love the TV series Lost. Not only is the plot captivating, but the scenery is fantastic. So while my husband and I were recently on Oahu, we wanted to find some of the key spots where scenes from Lost are filmed. It was really an adventure finding some of the places, almost like a treasure hunt. I thought I'd share some of the sites we found in case you would like to see them online or find them for yourself.
The Survivor's Camp at Papa'iloa Beach (also known as Police Beach)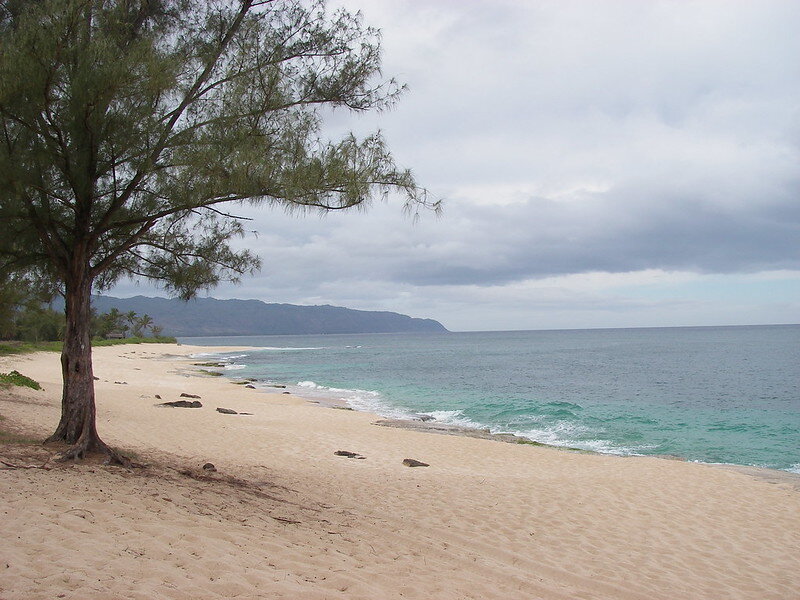 Once we found this spot, we didn't want to leave it. (For Google satellite view of this beach, click here.) We saw the survivor's kitchen and Mr. Eko's church structures. Filming had been stopped for the summer, so not many props were up, but it was still amazing to just stand there and soak it all in.
There was a very nice security guard at the camp, Tony, who pointed out where Sawyer's, Claire's, and Hurley's tents are set up. He also pointed out the graves sites of Shannon, Paulo, and Nikki. (There may have been more character's buried there, but those characters were the only ones I could remember for sure and there were only three distinct graves in the sand.)
If you go…
How to Get There: First try to see if you can find the public beach access from off of Papailoa Road just off of Hwy 83. (February 2009 Update: See my detailed post on the easiest way to the Lost beach camp.) Take the public access to the beach and walk south along the shore. It appears that this way is the shortest distance to the camp site. We looked for this public access off of Papa'iloa Beach the first time, but couldn't find it. On the second visit we did find the access and found it to be way shorter than the alternative from Hale'iwa Beach Park. There are several private homes here and they don't make you feel welcomed by the plethora of "no trespassing" signs. We found what appeared to be public parking immediately across from the beach access. Don't leave any valuables in your car here. We saw broken glass where a car window had been broken out.
If you have trouble finding the public beach access off of Papailoa Road, then there's a longer way, but a reliable way to find the survivor's beach camp. Take Highway 83 towards Hale'iwa town and  park at the northern most corner of the Hale'iwa Beach Park and walk north along the beach until you get to the area taped off by yellow tape or orange fencing. It will take you about 30 to 45 minutes to walk there.
Advice:
Always stay on the beach or beach access. Anywhere beyond that without invitation is considered trespassing.
You will be walking in sand and over rocks, so bring shoes that are easy to slip on and off.
Watch for turtles. We saw this guy sunning and taking a nap on the beach, plus we saw a bunch more body surfing. If you see one, look, but don't touch.
Bring water.
The area is guarded 24/7, so obey all signs and be respectful of the security guards.
The Submarine Dock & Jin's Father's Fishing Pier at Moli'i Fish Ponds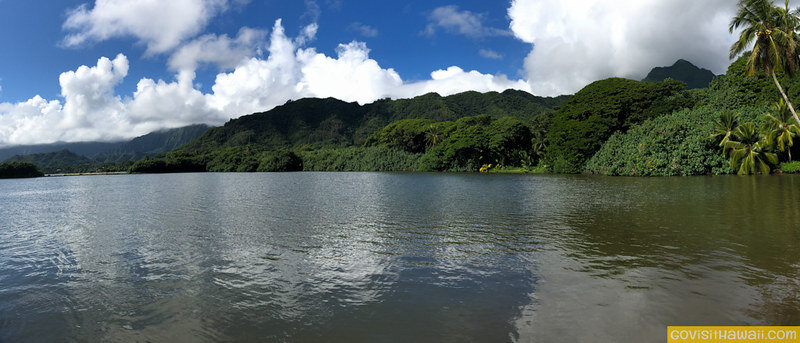 When I saw this area on Lost, I was blown away at how beautiful it was, so I really wanted to see it in person. It was a bit confusing trying to find it. We were told by a local to go the the Macadamia Nut Factory off of Hwy 83 just south of the Kualoa Beach Park. Unfortunately, the people at the store were grumpy and very unhelpful. So we tried walking along the shore line from the Kualoa Beach Park. We found a clearing from the beach and could see glimpses of the fish pond, so we followed the clearing where we were met by the magical view in the photo to the left. For a satellite view of this area, click here.
If you go…
How to Get There: We accidentally trespassed (sorry!) by following the clearing from Kualoa Beach, so don't do what we did. We've since found a much easier (and legal) way to see Moli'i Fishpond. Kualoa Ranch offers a Taste of Kualoa Farm tour that goes to the fishpond.  I wish we had taken that tour. You can book this tour online or in person at the Kualoa Ranch visitor's center off Hwy 83 on the east side of Oahu.
Hurley's Golf Course and Van Starting Scenes and many other scenes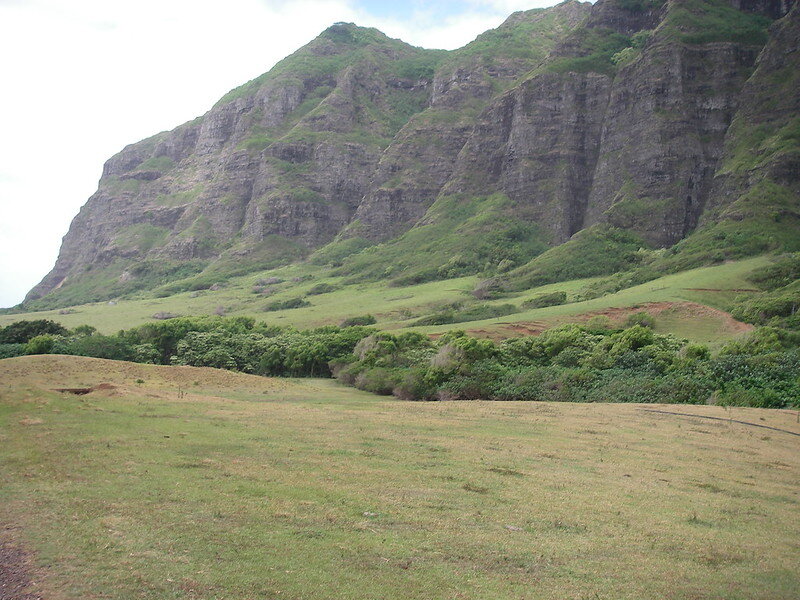 The Ka'a'awa Valley on the Kualoa Ranch was where Hurley made his golf course and found the old VW van. This was also the scene where Ben killed his father. This valley has been the backdrop for other television shows and movies like Jurassic Park and 50 First Dates. You can see these sites on a one hour Movie Sites and Ranch tour offered by Kualoa Ranch. Check out our review of the tour for more information.
Other Sites We Found
The mustard yellow houses of the Other's community is at the YMCA Camp Erdman off Hwy 930 on the northwest side of Oahu. Several scenes including the crash site from the first episode were filmed at Mokule'ia Beach. This beach is right next to the YMCA camp.
We also found a banyan tree that has been used in some scenes. This banyan tree is located between Turtle Bay hotel and Kawela Bay on the very northern tip of Oahu. If you stay at Turtle Bay Resort, you will receive a site map that will show the path to the banyan tree. If you are not staying at the resort, you may be able to ask for directions from the guard at the gate near the entrance next to the Turtle Bay Resort parking lot.
From Season 5, we found the Rainbow Drive In where Hurley and Sayid grab hamburgers.It's located in Honolulu near Waikiki Beach.  Follow this link for more on finding and eating at the Rainbow Drive In.
Sun's father's home in Korea, is actually the Byodo-In Temple on the east side of Oahu near Kanoehe.
The waterfall where the survivors collected water is at Waimea Falls on the North Shore. This site is also where Kate and Sawyer shared a romantic swim.
Resources
You could probably spend weeks looking for Lost sites. I'm glad I found the ones I wanted to see most. See our map of the top 3 locations where Lost is filmed. Have fun finding your favorite Lost scenes!