Kauai's Coco Palms Resort – A once proud resort to be revived?
As I have driven past the Coco Palms and admired its Polynesian architecture and grounds, I wish I could take a peek back in history and have seen it in its glory days.  Though the resort stands mostly in disrepair, somehow I've sensed that it was once full of life and remains proud of its history.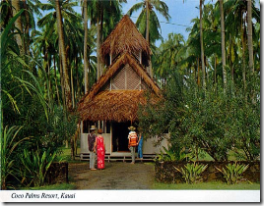 Perhaps the biggest Coco Palms' claim to fame is that Blue Hawaii starring Elvis Presley was filmed there in the early 1960's.  In Blue Hawaii, Elvis Presley's character, Chad Gates, was married at the Coco Palms.  This scene inspired hundreds of other couples to get married at the same spot.  In fact, prior to Hurricane Iniki, the resort averaged around 500 weddings a year.  Even though, the resort is closed now, it still hosts one or two weddings per week.
The Coco Palms Resort is located in the Wailua area of Kauai in the midst of the famous Coconut Grove and lovely lagoons.  The Coco Palms Resort originally opened in 1953 with just 24 rooms, but by the 1970's it had become well known and expanded to over 400 rooms.
The resort was badly damaged by Hurricane Iniki in September 1992 and forced it to close.  Almost 15 years after the devastating hurricane, a new breath of life is coming to the Coco Palms.  Currently the resort is being repaired and is due to reopen in 2008 as a resort hotel, spa and luxury condos.  If you are interested in more information, check out the official sales web site.   Also, according to this The Epoch Times article, "if you'd like to visit the Coco Palms Hotel during a Kauai visit, your hotel tour desk can arrange it with a private tour company that has exclusive rights; walk-ins are not permitted."  I look forward to seeing the completion of the resort's revival.