On Kauai you basically have three main geographic areas to stay:
North Shore including Princeville and Hanalei
East Shore including Kapaa and Lihue
South Shore including Koloa, Poipu and Waimea

View Larger Map
The good news is that you can't make a bad choice. Each area has it's special features and benefits. Of course, you'll find beautiful beaches all over Kauai, so don't worry a bit about finding the best beaches for strolls and relaxing.
Though not always drenched in rain, Kauai does get a bit more rain than the other Hawaiian Islands. One interesting point to note is that most of Hawaii's rain falls at night. For the rainier seasons, we recommend East and South shore stays, as we describe in this article: Where to stay on Kauai for the Best Weather.
I'll summarize the vacation benefits and downsides as pluses and minuses of each major Kauai area:
North Shore

+  Stunning scenery with a backdrop of tall, verdant cliffs with pencil thin waterfalls. You'll really know you're on the Garden Isle when you stay here.
+  If luxury is what you are looking for, you'll find Kauai's most luxurious hotel at the St. Regis property in Princeville. It has one of the most stunning views in all of Hawaii.
+  You can find villas, timeshares and condos to suit just about any budget on the North Shore.
+ There's a variety of restaurants and food trucks in Hanalei.
–   The North Shore tends to get a bit more rain compared to the other areas of the island. This usually isn't a big deal, but it can (not always) be a bit more of a problem in the rainier months of November – March.
–  Big waves hit Kauai's North Shore in the winter months (November – March), which can make the beaches unsafe for swimming.
East Shore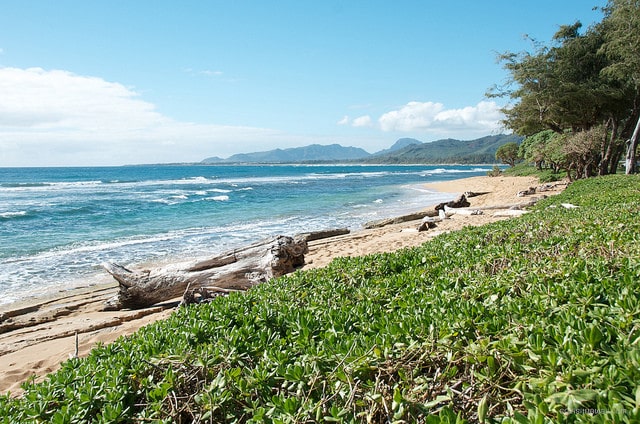 +  Hotel rates tend to cost a bit less here.
+  Several hotels in the Lihue area offer free shuttle service from the airport, so you can reduce or eliminate your need for a rental car. (See my article, Will You Need a Rental Car in Kauai.)
+  The East Shore is a convenient, central base for touring the island.
+ Many inexpensive restaurants are within driving distance.
–   There aren't any great sunset viewing spots from the East Shore, but you can enjoy sunrises.
–  Most East Shore beaches are not swimmable. The main exception is Kalapaki.
South Shore
+  The South shore tends to be sunnier and drier year-round.
+ Excellent selection of restaurants within easy driving and sometimes walking distance.
+ Great selection of accommodations — from inexpensive vacation rentals to mid-range and luxury hotel options.
Additional suggestions
We know how difficult it can be to where to stay on Kauai. For our first trip, we had a tough time choosing between the North and South shores. You might want to consider splitting your stay between the two locations as we suggest in this article.
Here's a list of where we've stayed in Kauai. Follow each link to read the reviews.
North Shore –
Pua Poa Condo (We don't have a specific review of Pua Poa, but it is mentioned here.)
East Shore –
South Shore –
Go back to the main page of the Kauai Vacation Guide.