Aloha and welcome to our annual Honolulu, Oahu July 4th guide! At the moment, most events on this page are from 2022. Once the venues begin to announce what they're offering, we'll begin updating this page. For anything that's updated for 2023, we'll note it with a bold, red 2023.  In the meantime, if you are planning a 2023 July 4th vacation
Review the events on this page. Most of them are repeated year after year. As such, you can get an idea of what might be coming up in 2023.
Subscribe to our free newsletters that are generally issued twice per week. You'll stay up to date all Hawaii travel advice, news and ideas. Plus, we'll announce that this page is up to date via our newsletter. Subscriptions are free and you can unsubscribe at any time.Carefully enter your email address at this link to subscribe to our free newsletters.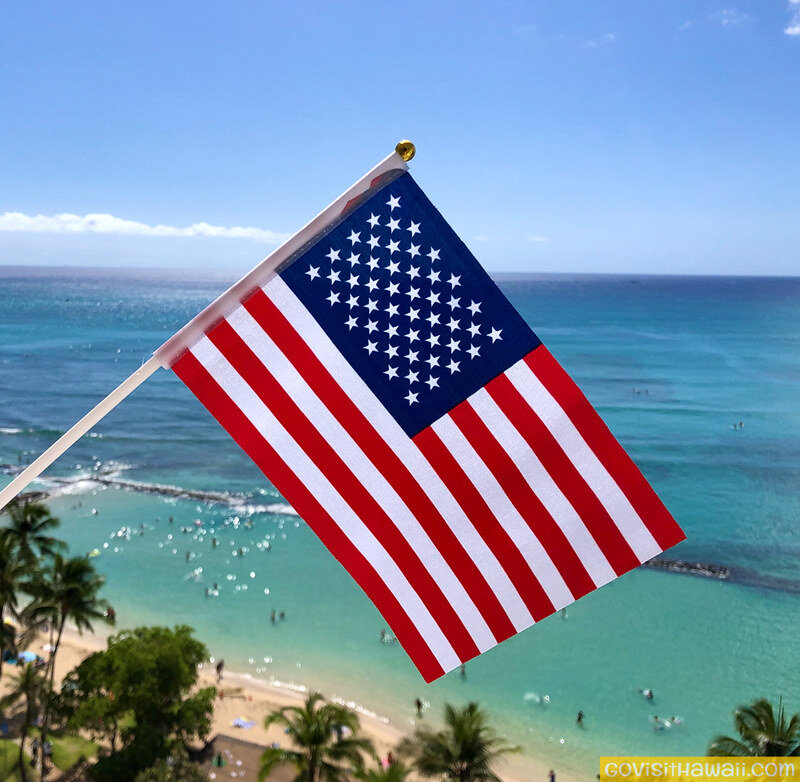 Oahu is a fun and patriotic place to celebrate July 4th. After a couple years of events being on hold, July 4, 2022 is shaping up to be a great year to be on Oahu. Several celebrations and fireworks shows are back in action after a two-year pause. The traditional events are almost, but not completely back to normal. 
In a bit of an unusual trend for 2022, several Oahu Independence Day events will be held on the days preceding July 4th. If you are a big fan of fireworks, you could potentially observe them at various spots on Oahu on Friday, Saturday, Sunday and Monday this year!
So, let's look at what's planned for Independence Day Weekend and July 4, 2022 on Oahu! We'll list the events mostly in a chronological order.
June 30th
June 30th – Friday Night Fireworks at Hilton Hawaiian Village
Okay, so technically this isn't an Independence Day event, but it's a great way to kick of the Independence Day weekend!  This weekly Friday night fireworks show on Waikiki Beach is set to start at 8:00 p.m. 2023
July 1st
Independence Day Concert and Fireworks at Weyand Field,  Scofield Barracks  
The Scofield Barracks Independence Day celebration is usually reserved for Department of Defense (DoD) card holders and their guests, but this the 2022 event was free and open to the public! Will that be the case again for 2023? We're checking to find out.
See this link for more details and take note of the prohibited items and identification requirements.
July 3rd
Independence Day Fest at Turtle Bay – July 3, 2022
On the North Shore of Oahu, Turtle Bay Resort hosts Ohana Day at Turtle Bay on Sunday, July 3rd. Enjoy live music featuring top local artists and a fireworks show. Doors open at 3:00 p.m. Concerts start at 4:00 p.m. The fireworks show is set to start at 8:00 p.m. See this link for more information and to purchase tickets.
July 4th
4th of July at Hukilau Marketplace 2022
In Laie, on the North Shore of Oahu, the Hukilau Marketplace will host a fun day of live entertainment, food, free games and fireworks. The festivities will take place on July 4th from 4:00 p.m. to 9:00 p.m. This event is free and open to the public. Check their events page for more details.
Kailua Beach 4th of July Fireworks for 2022
The 4th of July fireworks show is back for 2022! It's set to start at approximately 8:00 p.m on July 4th. Check this page for updates along with parking and shuttle information. Also note that there's a yellow donate button at the top right on the page.
Oahu North Shore July 4th Festival, Fireworks & Vintage Car Show 2022
The North Shore Chamber of Commerce is hosting the very first annual 4th of July North Shore Festival at Haleiwa Beach Park. This festival opens at 10:00 a.m. Activities throughout the day include a vintage car show, food vendors, live musical entertainment, hula, bounce houses, face painting, food eating contest, and robotics competition. The fireworks show starts at 8:00 p.m. This event is free and open to the public. For more information see this link. (Note: if their website is down, here's the flyer for this event that the North Shore Chamber of Commerce posted on their Facebook page.)
2022 Independence Celebration events on Oahu for the military communities (DoD cardholders and authorized guests only) 
The military communities have planned some excellent celebrations for 2022. These events are reserved for Department of Defense ID cardholders and their eligible guests. The public may watch these fireworks shows from afar, but not on base.
Joint Base Pearl Harbor & Hickam  plans 4th of July Freedom Fest at Pearl Harbor including family fun, a car show, concerts and fireworks. The live concerts start at 3:30pm. The headliner, Chase Rice, is planned to perform at 7:30pm. The fireworks show is set to start at 9pm. See this link for more information. Updated for
Kaneohe Bay MCBH kicks off the Independence Day weekend with a concert featuring Chase Rice on Thursday, June 30th. This event is only open for DoD card holders. See this link for more information. Additionally, on July 4th, MCCS Hawaii plans an exclusive fireworks watch party to watch Kailua's fireworks. See more about the fireworks watch party here.
Also see the July 2nd Independence Day Concerts and Fireworks event at Scofield listed above.
Ala Moana Center Fireworks cancelled for 2022, but free entertainment is planned
Unfortunately, Ala Moana Center fireworks are cancelled for 2022 per this KITV article. The article says, "The highly-anticipated 4th of July fireworks show put on by Ala Moana Center and held at Ala Moana Beach Park is not happening again this year." Ala Moana Center typically hosts one of the biggest if not the biggest fireworks shows in all of Hawaii. We know this is a disappointment to many. Maybe we'll have better luck in 2023.
Even though Ala Moana Center won't be hosting fireworks in 2022, they have a great lineup of free live music and hula performances. This special 4th of July Celebration runs from Thursday, June 30 – Monday, July 4th. See this link for the schedule.
—
Notes:
Events are subject to change without notice. Over the 15-plus years we've been following and covering these special events, we have rarely observed any deviations, but they have happened. One year, an event was cancelled altogether with no notice. Another year, there was an issue with a computer motherboard used for the pyrotechnics, which resulted in a last-minute postponement of the fireworks show until July 5th.
We recommend you bookmark this page to check for updates. We are actively checking our contacts for additional events. Additionally, subscribe to our free newsletters to stay up to date on potential July 4th events as well as other helpful Hawaii travel information. Carefully enter your email address here to receive our newsletters. You are free to unsubscribe at any time via the unsubscribe link at the bottom of every newsletter.
If you are a journalist or blogger utilizing this page for your research, would you kindly do what's pono and provide a link to GoVisitHawaii.com. I spend hours upon hours upon hours checking, calling, emailing, etc. to provide the information on this page.