In addition to being referenced as a Hawaii travel expert by major media publications as well as the leading independent Hawaii travel blog as independently ranked by traffic by Travelpod, Go Visit Hawaii has earned several coveted travel blog awards and honors. Here are some of the key awards and honors that Go Visit Hawaii and Sheila Beal have earned:
Go Visit Hawaii was named one of the Top 13 travel blogs for 2013 by vote on Christopher Elliott's top travel consumer site.
Go Visit Hawaii's Facebook page was named the best Facebook travel site of 2013.
Luxury Travel Mavens nominated Go Visit Hawaii for the award of best blog for the destination. Readers voted Go Visit Hawaii as the top destination blog.
Go Visit Hawaii was named one of the Top 12 Travel Blogs You Should Read in 2012 by readers of Christopher Elliott's top consumer travel blog.
Lonely Planet Award for the Best Destination Travel Blog in 2009.  (Note that 2009 was the only year Lonely Planet issued this prestigious awards.)
As an award winner, Sheila was invited to become a featured blogger for Lonely Planet.

Top 50 Travel Blog List per Konector
Tripbase Finalist for Best America Travel Blog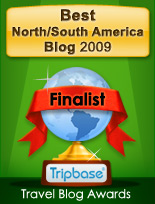 Consistently listed in the top echelon of the Top 100 Independent Travel Blogs per TravelPod's TravelBlogSites. Here is a recent example of their list of the top 100 travel blogs.
Alamo selected Go Visit Hawaii as one of the top US blogs.